Communication
Degrees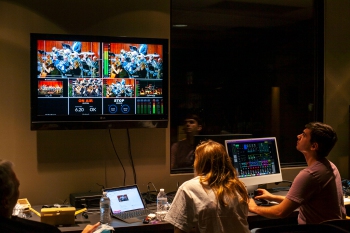 The Communication and Computer Science and Digital Arts programs at Southwestern College take into consideration the current trends in business and industry, the competitiveness of the job market, and the level of readiness needed for graduate programs and offer students a program of study to help them meet their career goals. Students' interests, abilities and skills are considered as professors encourage students to challenge the abilities they bring to the program, and offer coursework and activities uniquely suited to students' skills, goals and educational needs. We call these "emphasis areas." There are three majors from which to choose between the Communication and the Computer Science and Digital Arts programs (the technology version of "Communication.")
Activity Grants
The Communication program at SC also offers a variety of extra-curriculum activities, some involving Activity Grants up to $5,000, for students interested in participating in specialized areas of student media and communication. You do not need to be a Communication major to qualify for an Activity Grant. Activities include:
---
Collegian Staff Earns Awards in 2021 Kansas Collegiate Media Contest; Sparks Recognized
Members of the Collegian student media staff at Southwestern College won six individual awards in the 2021 Kansas Collegiate Media contest. In the profile writing category, students took three of the four awards, with a first and third place and an honorable mention in the four-year newspapers division.

Tessa Castor Rylant, class of 2020, won the category with a profile story published last spring. Mallory Graves, Ardmore, Okla., junior, took third place with a story about Ross Peterson-Veatch, academic dean, and Taylor Rodriguez, Macksville senior, earned an honorable mention with a profile about a biology professor who hosted games on Zoom with students.

Rodriguez also placed first in the multimedia feature category.

Lauren Sieh, Coweta, Okla., senior, earned an honorable mention with an online photo gallery, and Drake Vittitow, Blanchard, Okla., senior, earned an honorable mention in the multimedia feature story category.

This year's KCM spring conference was virtual and students gathered in Deets Library on April 9th to participate. In addition to Graves, Rodriguez, Sieh, and Vittitow, those attending were Emily Braudaway, Andover freshman; RJay McCoy, Wichita senior; and Daegiona Wilson, Wichita sophomore.

Stacy Sparks, the faculty adviser to The Collegian, who is retiring at the end of the academic year, was recognized for her contribution to the organization.
---