About
Welcome to Southwestern College!
I am confident you will find Southwestern to be a warm and enthusiastic educational environment, a college that is filled with students who are preparing to lead lives of significance.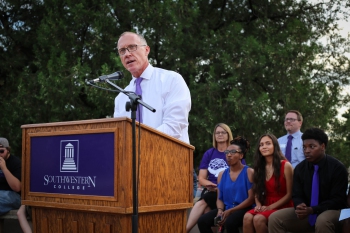 Those "lives of significance" take place in all kinds of locations and life situations, and our alumni and students are taking the Moundbuilder message around the world.
As you look at Southwestern on the web, check out both the campus site and the Professional Studies site (focused specifically on working adults, military learners, and persons in transition). In both places you will find ways to connect with caring people who are eager to help you learn more about our institution.
Look around, spend some time and get a taste of what it's like to be a member of the Builder Nation, then come visit us in person. We look forward to seeing you at Southwestern College.
Cordially,
Brad Andrews
President, Southwestern College
---
SC by the Numbers

Learn about Southwestern by the numbers; view undergraduate degrees, pre-professional tracks, and activities.
---
Moved by Tradition
Southwestern has a personality. From "The Jinx" to the Moundbuilding Ceremony to the 77 Steps, see what makes SC unique.
---
A Rich History

Southwestern College has its roots in the tradition of the Methodist circuit riders, whose love of education helped shape the educational landscape of the 19th century.
---
Our Core Values

Southwestern College provides a values-based learning experience that emphasizes intellectual, personal, and spiritual growth.