About
Welcome to Southwestern College!
I am confident you will find Southwestern to be a warm and enthusiastic educational environment, a college that is filled with students who are preparing to lead lives of significance.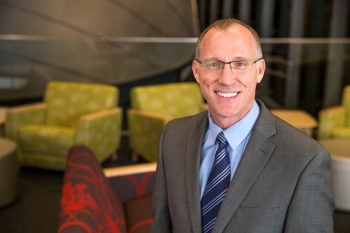 Those "lives of significance" take place in all kinds of locations and life situations, and our alumni and students are taking the Moundbuilder message around the world.
As you look at Southwestern on the web, check out both the campus site and the Professional Studies site (focused specifically on working adults, military learners, and persons in transition). In both places you will find ways to connect with caring people who are eager to help you learn more about our institution.
Look around, spend some time and get a taste of what it's like to be a member of the Builder Nation, then come visit us in person. We look forward to seeing you at Southwestern College.
Cordially,
Brad Andrews
President, Southwestern College
---
Town Hall Archive
On Wednesday, November 15 President Brad Andrews hosted a telephone town hall. President Andrews answered questions and gave an update on all that is going on at Southwestern College. Listen to audio from the telephone town hall below: