About
Welcome to Southwestern College!
The Southwestern College Board of Trustees is pleased to announce the selection of Dr. Elizabeth Frombgen as the college's 20th President.
Frombgen, a political scientist, professor, and administrator with more than 20 years of experience in higher education, has succeeded President Brad Andrews who accepted a presidency at Brevard College in North Carolina.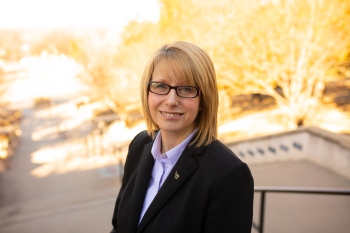 "Liz is a smart, energetic leader, and an empathetic listener whose vision and values are right in step with those of Southwestern," says Chair of the Board of Trustees, Kim Moore. "It's clear that students are at the very heart of her decision-making. She is focused on fulfilling the college's promise to each student and in doing so honoring the power and value of a liberal arts education. She is keenly aware and appreciative of the mission and day-to-day operation of a religiously affiliated private college with residential and professional online offerings, such as ours. With her experience and guiding values, Liz is the right president for Southwestern College. She will do great work to lead Southwestern forward."
Formerly vice president for academic affairs and dean of the college at Thiel College in Greenville, Pa., Frombgen earned her Ph.D. and master of arts degree in political science from Purdue University and her bachelor of arts degree from Western Washington University. She was on faculty at Hastings College from 2001 to 2012, serving as a professor and department chair before accepting the role of associate vice president for academic affairs, a position she held until 2017 when she accepted the position at Thiel.
Frombgen has a deep love for the unique spirit and potential exhibited by smaller liberal arts colleges like Southwestern.
"The transformational experience Southwestern offers, rooted in the tradition of liberal arts is more important than ever," said Frombgen. "Students at Southwestern learn in the classroom, through experiential programs, and participation in a diverse range of activities. On their way to graduation, students make meaning of every experience and relationship. During the interview process, it was evident that at Southwestern students are treasured by their faculty and staff and that care is reciprocated by students. It seems simple, but to be in a place where everyone cares deeply for each other, for others' happiness and success – that is truly special. I am excited to be a part of the Builder family."
The search committee, composed of trustees, faculty, staff, and the current Student Government President considered many applicants from a deep and diverse pool of highly accomplished leaders before bringing three finalists to campus in late March. Frombgen was confirmed by the board after a six-month, nationwide search. The firm EFL Associates provided executive search services during the process.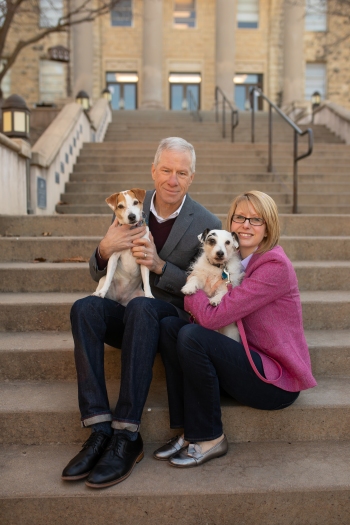 "Dr. Frombgen was immediately recognized by the search committee as someone who is extremely knowledgeable about the operation of a college like ours. She is a leader who celebrates the potential in every student and who will work day in and day out to constantly improve their experience, both on campus and through the college's professional studies online programs," said Mike Lennen, trustee, chair of the presidential search committee.
Frombgen was looking for an opportunity to return to the Midwest to lead a small liberal arts college in a close-knit community. In Southwestern, she found many attractive attributes, but most importantly the college's values and priorities closely align with her own.
"I was drawn to the college's recognizable commitment to community and connection on an increasingly diverse college campus," said Frombgen. "Southwestern is a supportive community of teachers and learners who not only want to explore ideas, but who want to do the work to make the world a better place."
During her time at Thiel, Frombgen collaborated with faculty and staff on strategic planning, curriculum revision, and program development. She played an integral role in securing significant private and grant funding to bolster programs and update facilities. Frombgen is known for building robustly cooperative relationships with alumni and the community that strengthen the institutions she has served.
Frombgen began work at Southwestern on July 1, 2022. She and her husband, Doug Kinnear, moved to Winfield with their dogs early last summer. They have one daughter, Lana, who was recently accepted to a Ph.D. program in Colorado.
"Liz and her husband, Doug, got right to work developing relationships with students, faculty, staff, alumni, and the community of Winfield when they arrived on campus. They are wonderfully warm people," said Moore. "Liz is well situated to confidently embrace the opportunities that lay ahead for our college. We are excited and grateful to move forward with her as our president."
---
SC by the Numbers

Learn about Southwestern by the numbers; view undergraduate degrees, pre-professional tracks, and activities.
---
Moved by Tradition
Southwestern has a personality. From "The Jinx" to the Moundbuilding Ceremony to the 77 Steps, see what makes SC unique.
---
A Rich History

Southwestern College has its roots in the tradition of the Methodist circuit riders, whose love of education helped shape the educational landscape of the 19th century.
---
Our Core Values

Southwestern College provides a values-based learning experience that emphasizes intellectual, personal, and spiritual growth.