News
April 24, 2014
Colton McNinch, Arnold, and Maddie Chapin, Andover, were named the 2014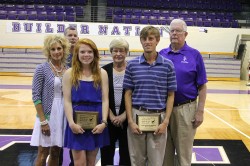 Outstanding Student-Athlete Award winners at Southwestern College. The ceremony took place Wednesday, April 23, in Stewart Field House.
The outstanding student-athlete award is given in memory of Tracy Young by Bill and Georgianna Young. Tracy was in the class of 1982. The award is presented to the top senior female and male student-athletes who demonstrate exceptional performance in athletics, academics, leadership, and college and community service.
McNinch is in the final season of his four-year career on the Southwestern College men's cross country team, where he spent this past season as a team captain. He has won three KCAC individual titles, and is a four-time All-KCAC selection on the cross country course. McNinch was also the recipient of the NAIA Champions of Character award at the 2013 NAIA Cross Country National Championships, and won the KCAC Cross Country Champion of Character Award the same season. Combined with his efforts as a member of the track and field team, he is a 17-time All-KCAC selection. He has qualified for nine NAIA national championships. McNinch has also been named a KCAC Scholar-Athlete three times, and has twice been selected as an NAIA Scholar-Athlete. When he's not running McNinch is the Student Foundation vice president, the Senior Class President, and is a Student Government Senator. He is also a general and organic chemistry tutor, and has raised funds for the Winfield Food Pantry, and St. Jude's Children's Hospital.
Chapin is a two-year captain and a four-year starter for the Southwestern College women's soccer program. She scored 11 goals and added five assists over her career, which was spent primarily as a defender. Chapin is a four-year All-KCAC selection, and was selected by her teammates as the "Most Valuable Player" in each of her four seasons with the team. She will graduate in May as the winningest player in Southwestern women's soccer program history having won 30 matches in her career. Chapin was named the KCAC Female Student-Athlete Champion of Character following her junior season, and was the KCAC winner of the Dr. LeRoy Walker Award. She is currently in the running to receive the national Dr. LeRoy Walker Award. She also competed in cross country for two seasons. Chapin has been accepted into the University of Missouri's School of Veterinary Medicine.
Nominees also included:
 Jackie McCauley, Ulysses, women's golf
 Sara Blackburn, Garden City, softball
 Cori Hunt, Loveland, Colo., women's cross country
 Taylor Sisneros, Windsor, Colo., women's track and field
 Zefiryn Bryan, Delphos, Ohio, women's basketball
 Adrienne Vieyra, Hutchinson, volleyball
 Tyler Harrell, Edmond, Okla., women's tennis
 Chris Paddock, Rose Hill, men's track and field
 Lorenzo Fouts, Arlington, Texas, football
 Alex Tyler, Andover, men's basketball
 Max Manley, Coffeyville, men's tennis
 Joe Schwartz, Arkansas City, men's soccer
 Luke Arneson, Valley Center, men's golf
This was the 16th annual presentation of the student-athlete award.