News
June 18, 2014
Southwestern College is hosting students from two Wichita middle schools during the month of June. Students from Truesdell Middle School will be on campus from June 17-20 and students from Jardine Middle School are on campus from June 24-27.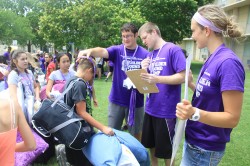 A total of 68 students from Truesdell were eligible to attend the four-day Builder Bound camp that began Tuesday. It will conclude on Friday with a graduation ceremony in the Richardson Performing Arts Center at 1:15 p.m. The public is invited to attend.
SC will welcome 35 students from Jardine on June 24. This will be the first year that the college has hosted students from Jardine Middle School. Their camp will also conclude with a graduation ceremony in the Richardson Performing Arts Center, on June 27, at 1:15 p.m., and the public is again invited to attend.
According to DeAnn Ricketts, a teacher at Truesdell, students on the honor roll at Truesdell were selected first followed by students who were close to achieving honor roll status and could benefit from the positive influences at Builder Bound Camp. Truesdell has nearly 1,000 students enrolled. Last year 52 students attended the camp and the number of kids eligible this year jumped to 68.
"The kids are always talking about coming to this camp," Ricketts says. "They are so excited to be here. The eighth graders who are going into high school were not happy that they couldn't attend this camp anymore. And this year we get one extra day here which means more class time and more seat time. This camp has such a positive influence on these kids."
Ricketts says that this year the kids had more choices to make.
"They had to pick their roommates and what classes they were going to take. I want them to get a clearer look at what the college experience is like," she says.
Sycarreya Sanders, 12, is attending camp for the first time and has been counting down the days to Builder Bound.
"I want to go to college and I wanted to have some college-like experience," Sanders says. "I had this day marked on my calendar and I have been crossing out the days for the past two weeks. I am really excited to be here."
This is the sixth year that Southwestern has collaborated with USD 259 to provide a similar camp. For four years SC has partnered with Stucky Middle school thanks to a partnership developed between Dawn Pleas-Bailey, vice president for student life at Southwestern College, and Terrell Davis, the principal at Truesdell. In 2012 Davis was transferred to Truesdell and contacted Pleas-Bailey to see if Southwestern could provide a camp for a larger number of students. Many of these students are from economically disadvantaged families and would be first generation college attenders. Part of the mission of this camp is to expose these kids to the college experience and let them know that college is an option for them.
Ed Loeb, associate professor of mathematics at Southwestern, is leading the academic side of the camp.
"The camp this year is organized into six distinct mini-courses," Loeb says. "These courses include engineering, forensics, photography, Builders Abroad (students explore other cultures), entrepreneurship, and math and art. The students have been split into six teams that will each participate in one of the courses over the four days."
Courses are staffed by SC faculty (Michael Tessmer, Stacy Sparks, Rena Rodriguez, Sarah Hallinan) as well as by alumni (Korie Hawkins, Brandon Hessing). Additionally, according to Loeb, other instructors include Truesdell faculty members, Joy Tessmer, Garnita Pleas, and Phyllis Pleas.
"The courses will consist of nine hours of 'seat-time' over the four days as well as homework time in the evening for them to work on projects and materials for their classes," Loeb says.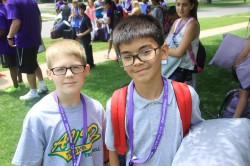 In addition to the classes, the students will go bowling at Hillcrest Lanes in Arkansas City and attend a movie at the Cowley 8 Cinema. Apart from these organized outings, time is built into the schedule for the kids to learn from their mentors about student success, discuss and develop a healthy image of themselves, and establish an understanding that college is attainable if they wish.
The camp staff this year is composed of current Southwestern College undergraduates and alumni. Student mentors include Woodley Fenelon, Lekendrick Jordan,Vince Folston, Luiz Reyes, Quenton Todd, Stevie Heidzig, Maggie Dunnig, Audrey Vorderlandwehr, Cierra Ross, Paul Mata, Dejon Brison, Gabby Gamez, Monica Gamez, Austin Sheppard, and Deborah Martin. These mentors will be working with campers in both the academic courses and also in the social aspects of the camp. Alumni involved in the camp are Kaitlynn Tennyson, Maggie Collett, Tabitha McMullen, Gloria Griffin, Nolan Davenport, TJ Harris, Shelby Alexender, Gene Hartman, Jenn Nicholson, Tim Miser, and Anastasia Prokopis. Other mentors include LJ Hawkins, Amanda Bintz, and Amber Good.