News
July 23, 2014
Southwestern College sports information director Scott Nuss received several awards at the 2014 NAIA Sports Information Directors Association (SIDA) conference in Orlando, Fla.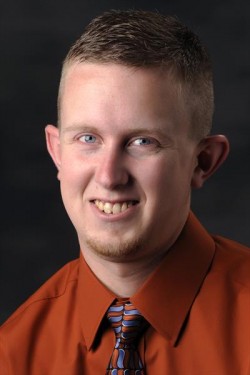 Nuss was recognized four times in the NAIA-SIDA Walt McAlexander Publication Contest. He earned a first, second, and fourth place awards in the "Game Notes" category for his men's basketball, women's basketball, and football notes, respectively. Southwestern's athletics website, www.buildersports.com, earned 10th place recognition in the "Outsourced Website" category.
Nuss submitted his feature story about retiring hall of fame head coach Jim Helmer titled "One Last Run." That story earned him a third place national award in the NAIA-SIDA Dr. W. Jack Bell Writing Contest's Feature Story category, and was recognized as the District 7 Coach/Administrator Profile & Feature of the Year in the College Sports Information Directors of America (CoSIDA) Fred Stabley Sr. Writing Contest. District 7 consists of SID's from Iowa, Missouri, Nebraska, Kansas, Colorado, Wyoming, Montana, North Dakota, South Dakota, and Canadian provinces Saskatchewan and Alberta.
Nuss's story, "One Last Run," can be read at www.buildersports.com/article/1346.php.
Dave Denly, athletic director at Southwestern College, was not surprised that Nuss was recognized so often.
"The athletic department would like to congratulate Scott Nuss on his many accomplishments at the NAIA-SIDA convention in Orlando this past month," Denly says. "Scott is vital part of our athletic department success. We feel we have one of the brightest SIDs in the country and it showed at this conference."