News
July 11, 2011
Installation of a wind turbine has begun at Southwestern College, thanks to a grant from the Wind for Schools program and the cooperation of a local business.

Southwest Windpower of Arizona will provide the college with a Skystream 3.7 land turbine system and Cates Supply of Winfield will install the turbine with the help of the Southwestern College plant operations staff. The Skystream 3.7, a 2.4 kW wind turbine, will produce up to 400 kilowatt hours per month. Brian Williams and Justin Cates of Cates Supply have been instrumental in the project, along with Southwestern's Green Team director Jason Speegle.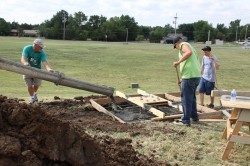 "We are excited to work with an energetic and proactive school that is interested in educating students and the community about wind power," says Scott Brown, president and chief operating officer for Southwest Windpower.

The turbine is being installed on the southeast corner of campus near the grass soccer field and installation is scheduled to be completed by the end of July.

"The wind turbine will enable Southwestern to create curriculum to educate the campus and community about wind energy," says Speegle.