Tierney Sutton
"Tierney is selfless and genuine; she's never afraid to reach out and help others. She has the heart of a true Moundbuilder."
- Tim Testa, Head Cross Country Coach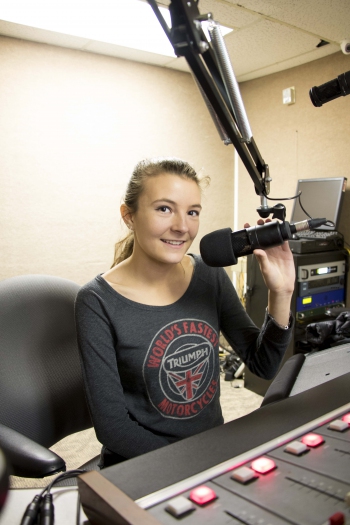 When she was in high school, Tierney Sutton knew she wanted to be a marine biologist, she just didn't know where she wanted to go to school. In fact, she was well into the spring of her senior year and still hadn't made her choice.
She knew most marine biology programs were in schools on the coasts, far away from her Colorado home, but on the off chance there might be one closer Tierney did a web search for colleges offering this major. To her surprise a small college in Kansas popped up.
Tierney had been a cross-country runner all through high school so she checked a box that indicated she might be interested in an athletic scholarship.
Five minutes later her phone rang, and a Southwestern College cross-country coach was on the line. A few weeks later she visited SC for the first time during a February Explore More Day, and by the time she left Winfield she had signed a letter of intent.
Tierney Sutton has the heart of a Builder. It was this heart that kept her running when her freshman cross-country season was derailed by an injury.
"We had a meet where we had to run in mud and the next day I couldn't run at all. It turned out I had a stress fracture of my ankle," she says.
Tierney knew, though, that if she didn't run the Lady Builders would be bumped out of a crucial competition: A KCAC rule requires schools to have five participating members to be eligible to compete as a team in the following year's national championships.
So for her team, Tierney ran.
"I didn't finish in the top places, but if I hadn't run, our team couldn't have gone to nationals this year," she says, "and that whole experience was super-rewarding."
"Tierney is always cheerful and pleasant. She respects her classmates and encourages them when the course becomes difficult."
- Stacy Sparks, Associate Professor of Journalism
And this year, she's delighted to add, the team has grown enough that having enough runners to qualify isn't an issue.
It's also Tierney's Builder heart that makes her the student organizer of many of her classes. She had decided to major in communications rather than marine biology by the time she enrolled, and in these small classes she is often the one setting up study groups and offering to share Quizlet study guides. Her schedule includes 19 credit hours this semester, working as program director on the campus radio station, and participating in the IOU (It's On Us) group. She's often found volunteering for campus activities – during the solar eclipse she was one of the facilitators of the campus eclipse-watching event.
"I didn't expect to be as busy as I am," she says with a laugh. "I'm the kind of person who always has to have something to do, so I'm fine with my schedule, but before I came to college I thought there would be a lot more time to just goof around."
And as a girl raised in Aspen, she didn't anticipate something else that seems tailor-made for her Builder heart:
"The thing that has shocked me the most is that people here are so nice," she says with amazement. "I don't think I've opened a door since I've been here – there's always someone opening the door and smiling at me."
Now she looks back on her college decision and shakes her head.
"I was just so stressed out about picking a college, and Southwestern seemed the right place for me," she says. "My mother kept asking me if I was sure this was where I wanted to go, and I knew it was."
The spur-of-the-moment decision that made her a Builder brought her home.