Kaela Massey
"Kaela embodies the Builder spirit. She is constantly using her gifts and talents to help build programs, relationships, and most importantly herself as a leader, performer, and future educator. I value her drive to grow and become the best version of herself that she can be on any given day."
- Brian Winnie, Assistant Professor of Music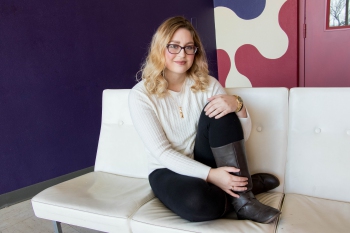 Kaela Massey's friends sometimes ask her why she chose Southwestern College. She is, after all, a talented and hard-working musician as well as a good student, and she had her choice of schools. Why would a Winfield High School graduate attend a school in her hometown?
When she was deciding on colleges Kaela was looking for a place that would see her strengths and bring out the best of her abilities. She caught the attention of professors Allyson Moon and Brian Winnie, who Kaela says "made me feel important."
Winfield's well-known tradition of supporting the arts was an added incentive in her decision to stay near home.
But she was also looking for a place that would encourage her to stretch her boundaries and try new things. So even though she hasn't changed her childhood goal of becoming a teacher, she added a musical theatre major to her planned music education major.
Since coming to SC she's added a goal "I'd love to be a performer, maybe in regional theatre, but as I've always been, I'm still passionate about teaching."
"Kaela is generous with her time and abilities. She is always ready to help others. Because she is multitalented in the arts and has a passion for learning, she has a lot of resources to pull from as she helps us all."
- Allyson Moon, Associate Professor of Theatre and Speech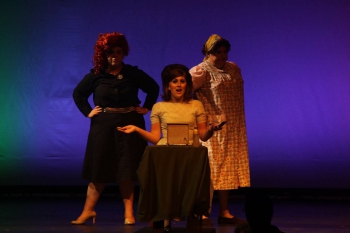 This passion plays out in some long days – during the fall 2017 semester she was in 14 classes, which translated to more than 20 credit hours and in-classroom time from 8 a.m. to 5 p.m. She teaches piano through Southwestern's Community Music School, tutors beginning music theory students, and (when she is cast in a play) has rehearsals for several hours every evening. She's part of the South Kansas Symphony, the A Cappella Choir, the SC Singers and the Chamber Choir, and Campus Players.
A full schedule is enjoyable, she says, because of her Southwestern friends and classmates.
"We're all together, literally, all the time," she says.
Kaela admits that they spend a lot of time in Darbeth Hall, where music and theatre students not only take most of their classes, they practice, rehearse, and support each other by running scenes or critiquing tricky passages.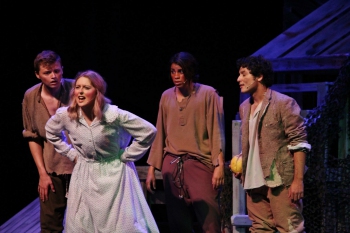 And this, she says, is part of having the heart of a Builder: generosity, passion, willingness to sacrifice for others, courage, dedication. Kaela groups her professors with students as true Builders.
"In high school I was told that professors didn't care if we did well or not, but that hasn't been true," she says. "If I miss a class or a rehearsal I get an email – 'Is everything okay?'"
For Kaela Massey, everything is just fine. She's attend-ing her dream school, even if it is in her home town.