Myron Fisher
"Myron demonstrates the perfect blend of ability, aptitude, and intangibles. He utilizes all his gifts, like presence, intellect, leadership, focus, selflessness, maturity and grit. That mixture is what makes Myron so special."
- Matt O'Brien, Head Men's Basketball Coach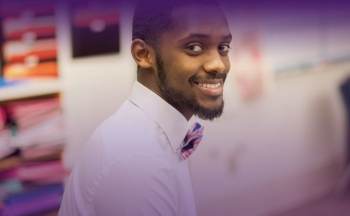 Myron Fisher arrives for an interview wearing a tie, a long-sleeved blue-checked shirt, and khakis, barely recognizable as the laser-focused guard whose relentless defense has helped lead the Moundbuilders basketball team to top national rankings this season.
He's just finished a day in a classroom of eighth-grade math students, and student teaching can be just
as challenging as playing Friends. He shakes his head and laughs.
"They were lively today," he says.
But these lively students are teaching Myron about life, just as he is teaching them the fundamentals of algebra. He has learned many similar lessons working with underserved youth at summer internships at Project Transformation in Dallas, as a starter on the basketball team, and as a leader throughout campus.
"Patience, for one thing," he says. "I've learned that patience isn't just waiting, it's pouring yourself into somebody, and continuing to do that even when you don't see immediate results. Eventually you get to see little glimpses of what you're working toward."
A native of Allen, Texas, Myron has shown himself the same kind of patience as he has worked toward the math education degree he'll receive in May: He arrived at Southwestern a dramatically different person from the one he is today. One example of this is his attitude toward Builder Camp.
"I was an introverted and un-social person, and when I heard about Builder Camp I thought it was the sketchiest, scariest idea I could imagine," he says. "It was overwhelming, but it turned out to be a good overwhelming."
He found himself going back every year to greet new SC freshmen as an orientation leader, and last fall he was chosen to speak to the largest class in SC's history. He told them to set their intentions and decide where they wanted to go. To work toward their goals. And to trust themselves – to believe in themselves.
Many of these are the same lessons he has learned from on-campus mentors – coaches Matt O'Brien and Tim Miser, and his education professors. They have taught him that everything is connected, that his basketball roles and attitudes carry far beyond the court. And late in his senior season, when a partially torn patella tendon became his first-ever basketball injury and held him out of several games, they reminded him of a difficult lesson:
"That adversity is pure joy, and that we need to understand the highs and lows of life," he says.
But the most important lesson he's learned at Southwestern College is one he hopes will take him into a career as a math teacher, then help him establish a charter school for at-risk kids.
"We have a responsibility to reach as we climb," he says. "If I'm climbing a ladder, I need to reach back, and make sure others are coming up the ladder with me."