Hanna White
SC Senior Hanna White Enjoying Success On and Off the Court
Southwestern College senior Hanna White has enjoyed plenty of success in academics and athletics during the fall semester.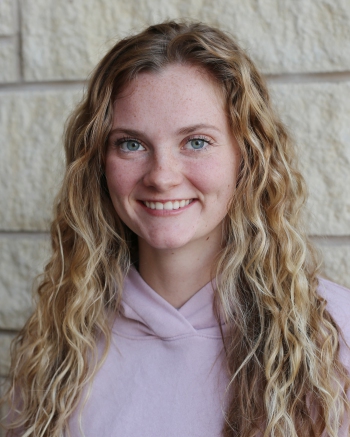 White, a 2016 graduate of Baxter Springs High School, transferred to Southwestern after completing her associates degree in just three semesters from Fort Scott Community College. She is the daughter of Cory and Ami White, Baxter Springs. White is majoring in physical education and middle level mathematics education.
White just finished her second and final season on the Moundbuilder volleyball team. Her list of accomplishments includes being named KCAC defender of the week, KCAC defender of the year, first team all-conference, and American Volleyball Coaches Association West-Central All-Region Defender of the Year. She helped lead SC to their best season since 1993. Southwestern finished the season seven matches over .500 at 18-11. The team also recorded the program's highest win streak earlier this year at 14 matches and began the year with the best start in school history at 15-5. Additionally, this was the first time the program has seen back-to-back winning seasons since 1992-93.
White has also been named a Scholar of the College, a recognition that is awarded to students who have achieved the highest grade-point average among full-time students who are enrolled in campus-based programs, have earned 85 or more credit hours, and have not previously been named to the honor. She was also a Homecoming queen candidate, an honor voted on by the Southwestern College student body.
Academics and athletics have always been important to White, who credits her parents for pushing her to excel, especially in the classroom.
"My parents always told me that academics will get me scholarships if athletics don't work out," White says. "They pushed me to excel and because of them, earning academic success has come my way."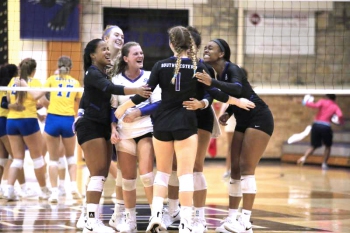 Volleyball accolades have been harder to come by for White. Her only volleyball honor prior to this season was earning honorable mention in during her senior season in high school, which makes the recent honors even more rewarding.
"I have always put a lot of time into volleyball, but never really been recognized, so this is really cool to get all of this recognition," White says. "I had some really good games this season. Coach Jake (Conrad, head volleyball coach at Southwestern) showed a lot of confidence in me. He told he wants me to touch every ball, so that is what I tried to do."
White has always known about Southwestern College as her grandparents live in Caldwell and her grandmother earned her masters degree from SC. Athletically, she has no regrets about attending Fort Scott before coming to Southwestern, however, academically she would have liked to have come as a freshman.
"As a transfer, I didn't get to do Buildercamp, I would have liked that," White says. "From an athletic stand point, I am glad I went to Fort Scott. In the education department here at Southwestern, you start getting experience in the field as a freshman. So in two years, I had to cram it all in, which has worked out fine."
White is quick to compliment the education department as a whole, and in particular, her advisor, Sheryl Erickson, and Ed Loeb, professor of mathematics and chair of the mathematics department.
"As Hanna's academic advisor I admire that she comes prepared to advising sessions, classes, and coursework as well as her time on the volleyball court," Erickson says. "Preparation is a must to be a successful educator."
Loeb recalls the first class that he had White as a student. He says that class was the most challenging that she had experienced in her college career. He says her work ethic and desire to understand the material made an impression on him.
"I remember her coming to see me to tell me that she'd like to know how to do the 'magic' that I did in class," Loeb says. "Over the course of the semester we probably met three to five hours outside of class per week discussing the materials. While some would use that time to just ask 'How do I do this' and 'is this the right answer,' Hanna was more interested in understanding the material so that she could do problems without assistance. Her dedication to knowing is what will propel her to success as an educator."