News
September 14, 2011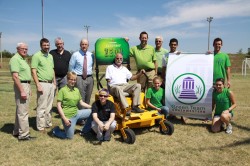 Southwestern College was the recipient of a donated Hustler Zeon electric riding mower, Tuesday, Sept. 13.
           
David Helsel, head of Southwestern College security, is the owner of Dave's Enterprises, a small business that sells Hustler Turf Equipment. Helsel worked with Excel Industries, the parent company of Hustler Turf Equipment, a company which operates out of Hesston, to donate an electric mower to SC in honor of the Green Team and the college's sustainability efforts.
           
The mower is estimated to save Southwestern around $245 each year in gasoline and maintenance expenses. 
           
Larry Buller, Josh Schmidt, and Roger Busenitz from Excel Industries, were in Winfield to present the Zeon mower with Helsel to Southwestern College President Dick Merriman; Jason Speegle, director of Green Team Southwestern; Jeff Gile, manager of plant operations at SC; and several members of Green Team Southwestern.