News
October 07, 2011
The Kansas Department of Health and Environment's (KDHE) Bureau of Waste Management recently held its fourth annual Kansas Green Team Assembly in Topeka. This assembly celebrates the success of the state's Green Teams and shows appreciation for the commitment to environmental stewardship made by businesses in Kansas.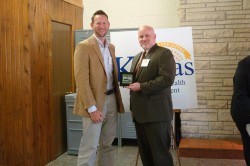 Green Team Southwestern won the Sustainability Education award.  This award recognizes a Kansas Green Team that is an outstanding leader in the education and outreach of sustainability.

Green Team Southwestern members lead sustainability trainings in the residence halls and various institutional departments each year. They are also involved in community outreach sustainability efforts. In 2010, in collaboration with USD 465, Green Team Southwestern began a community garden in Winfield. The purpose of the garden is to emphasize the importance of locally grown food and to support the local food bank. To commemorate Earth Day, they have planned activities such as Park-It-Week, Plant-a-Tree Day, a nature hike, various educational speakers, and Sweep Winfield.

"This annual event is a great way to showcase the green work taking place year-round," explained Megan MacPherson, KDHE's State Green Team Coordinator.