News
May 23, 2011
Members of the Southwestern College Green Team have returned from and eight-day service trip to Chicago.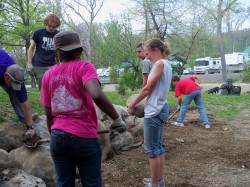 The group stayed and worked at Riverwoods Christian Center.  They spent several days doing woodworking, building bunk beds for newly constructed dorms, working on building a door to create a ventilation system for the workshop. They also spent time pulling weeds, picking up loose tree branches and litter, weed eating, landscaping, and planting bushes.

"The purpose of this trip was to serve the Riverwoods Center," says Jason Speegle, director of Green Team Southwestern.  "We were willing to do whatever they needed us to do in order to help them prepare for their upcoming camping season. We worked hard and our students not only accomplished a lot, but I think they really learned a lot as well. Working at Riverwoods definitely fit right in with our mission of 'responsible citizenship in the area of sustainability.' Riverwoods works with the economically stressed in their community, helping them create a sustainable future for themselves. The camp got us involved with nature and the beds that we were building were being fashioned out of the oak trees grown on Riverwoods campus."
The group was also able to visit some attractions of Chicago.  They visited the Art Institute of Chicago, Buckingham Fountain, and the Shedd Aquarium.  They also attended the Chicago Green Festival which included several speakers, vendors, and exhibitions. 

"I do my best to expose the students on the Green Team to different cultures and different ideas in the area of sustainability," Speegle says. "Working at Riverwoods, visiting Chicago, and attending the Green Festival definitely allowed us to experience a world very different than Winfield."

Students attending the trip were Clint Dick, Spivey; Sydnee Nelson, Clay Center; Sarah Rommelfanger, Baldwin City; Daniel Van Sickle, Maize; Kelcie Parrish, Oklahoma City; Mark Strecker, Tonkawa, Okla.; and  Tendai Kwaramba, Zimbabwe.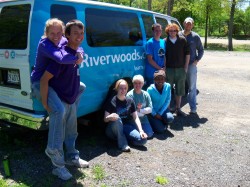 For more information about Green Team Southwestern, contact Speegle at (620) 229-6311.