News
June 04, 2015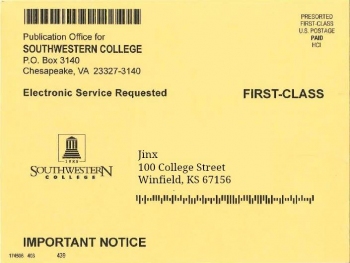 By now you've probably received a postcard like this in the mail. We are currently in the final stages of preparing Southwestern College Alumni Today, a publication that will feature listings along with photos and essays submitted by alumni. We need your help! A brief telephone call will ensure your listing is completely accurate and up-to-date. Call 1-877-821-0456 Monday-Friday between 7:00 AM and 9:00 PM (CDT).
---
Custom SC Blanket Giveaway
Everyone who responds by August 31, 2015, will be entered into a drawing for a custom SC blanket provided by Crochet from the Heartland.