News
November 23, 2016
Southwestern College is preparing to take part in its third annual day of giving on Nov. 29. Giving Tuesday, a global giving movement, has been driven by individuals, families, organizations, businesses and communities in all 50 states and in countries around the world.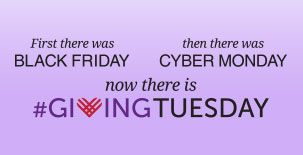 The goal of the Giving Tuesday movement is to pause and focus on serving others. After two days for getting deals – Black Friday and Cyber Monday – Giving Tuesday is a day for giving back, says Jessica Dibble, director of annual fund for Southwestern College. The day is an opportunity to raise money for local nonprofits, schools and arts organizations; run food and clothing drives; teach children about philanthropy; encourage acts of kindness; collaborate with neighbors; and celebrate generosity.
Since Southwestern began promoting Giving Tuesday to in 2014, significant funds have been raised for the college's Builder Fund. In the past two years more than $20,000 have been raised from Giving Tuesday gifts.
"We have been very excited by the response to Giving Tuesday," Dibble says. "We are hopeful that Builder Nation will once again help us participate in this extraordinary day of generosity."
Annual fund gifts collected for the Builder Fund are unrestricted, which allows Southwestern to be responsive to emerging opportunities and fund quality enhancements across the campus.

Giving Tuesday donors are encouraged to support Southwestern by mailing Intuitional Advancement at 100 College Street Winfield, KS 67156, calling 620-229-6279, or making a secure gift online at www.sckans.edu/makeagift.
Southwestern College is a private institution granting undergraduate and graduate degrees and is affiliated with the United Methodist Church. About 1,700 students attend classes at the main Winfield campus, at six professional studies sites in Kansas and Oklahoma, or online around the world.