Amp It Up! Worship Band Camp
Due to the COVID-19 pandemic, we have decided to combine Amp It Up Camp with the Summit Youth Academy into an online experience.
Both camps will be abbreviated and take place July 21-24. This year, it will only be available for the graduating classes of 2021 and 2022.
Combined Camp Registration HERE!
If you have any questions, please contact our Director of Camps & Conferences at Brittany.Donals@sckans.edu.
---
Amp It Up! Worship Band Camp turns up your skill level and deepens your faith in Christ.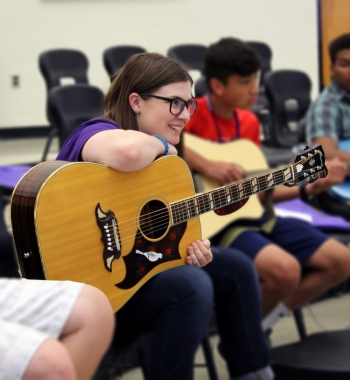 Tuition is $150, with the intention that churches and youth will split the costs. We understand that COVID-19 has affected everyone in different ways, so the fees are pay-what-you-can.
For four life-changing days, you will be mentored and taught by local worship leaders and will have the opportunity to perform with other Christian bands, artists, and high school and college worship leaders.
---
Amp It Up! Camp on Facebook
---
---
---
Check us out on Facebook!
Check us out on Twitter!
Check us out on Soundcloud!
---
Specialized Tracks
Keyboard players will play with the keyboard artists, drummers will learn drumming from the top band drummers. Each talent will work with similarly gifted persons.

Available tracks:
Songwriting
Lead/Background Vocals
Lead Electric Guitar
Rhythm Guitar
Drums
Bass
Piano
Keyboard
Sound Technician
Don't see your instrument - let us know! We may be able to accomodate you!
---
If you love to sing, play, and lead your youth group in worship, you can't afford to miss one of the greatest camp experiences with artists that will encourage and inspire you to maximize your gifts for the gospel of Christ.