Greenhouse
Greenhouse Big Blooming Sale!
Friday, May 18 8:00 a.m. - 4 p.m.
Saturday, May 19 8:00 a.m. - Noon
The Ruth Warren Abbott Greenhouse is located at Southwestern College in Winfield, KS. We have two greenhouses with about 3,000 sq. ft. The pictured greenhouse is almost exclusively orchids. The other is a multipurpose greenhouse where we grow orchids, poinsettias, and bedding plants. During the poinsettia and bedding plant seasons, the greenhouses are open for walk-in sales. We specialize in species orchids with about 1,500 varieties. We have a good selection of Phragmipediums and Australian Dendrobiums. Some orchids may not be listed on the website and if there is something special you are looking for, send us an inquiry. We may have it. Unfortunately, we can not ship out of the country due to permitting regulations.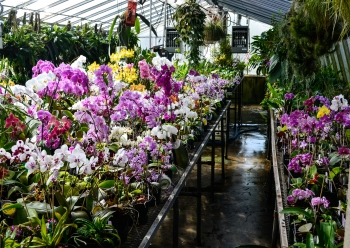 Greenhouse Hours
For Orchid sales we are open by appointment only
Site last updated 15 June 2018
Contact Us
Max C. Thompson & Bryon K. Rinke
Phone: 620-229-6285
Email: greenhouse@sckans.edu