News
May 15, 2012
The Southwestern College Philanthropy Board (SCPB) presented grants totaling $3,800 to three local non-profit organizations on Wednesday, May 2, at College Hill Coffee in Winfield.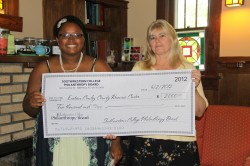 SCPB members presented a $2,000 grant to the Eastern Cowley County Resource Center (ECCRC).  ECCRC was founded in 2003 with a focus on computers and reading literacy. ECCRC is the sponsor of the Lighthouse Library project, an ocean-themed rural library with a 21,000 book collection. The funds granted to ECCRC will fund computer towers that will be used in robotics programming for youth and senior citizen computer workshops.
The SCPB awarded $1,000 to Family Life Services located in Arkansas City.  The funds granted will go towards 40 hours of counseling sessions for parents who are having problems with abuse in their families or parents who have had abuse problems growing up.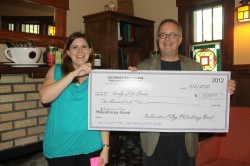 The SCPB also awarded $800 to Eagle Nest of Winfield.  The funds granted will go towards class scholarships for women.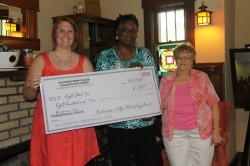 The SCPB was formed four years ago as a senior Leadership Southwestern student's project.  A grant was written, and Southwestern College was chosen by Campus Compact's Students4Giving program as one of 10 institutions to receive a start-up grant of $15,000.  The college also contributed to this amount.
With this funding, a group of students from the three Southwestern College service learning teams (Leadership Southwestern, Discipleship Southwestern, and Green Team Southwestern) formed the SCPB.  The board consists of five members from the three programs.
The mission of the SCPB is twofold.  First, it exists to teach college students about philanthropy and grant-making.  Each year, the SCPB creates Request for Funding Proposals (RFPs) and distributes them to Cowley County non-profit organizations.  The board then meets to review and award grant applications.  The second part of the mission is to help students connect and build relationships with local non-profits.  This year, the board worked toward this goal by visiting past grant recipients and hosting an on-campus philanthropy awareness week.
According to SCPB advisor Lindsay Wilke, the focus for this year's RFP covered three areas and was derived from the county's Vision 2020 plan:
• Decreasing the high incidence of child abuse in the county
• Increasing recreation and educational opportunities for young people ages 0-25
• Improving services for senior citizens.
A total of 11 non-profit organizations submitted funding requests, but programs that met one or more of the areas above were given priority.
Wilke has been pleased with the group.
"The board and the class took their job of crafting an RFP very seriously this year," Wilke says.  "They researched county needs and assets and studied Vision 2020 thoroughly to ensure that the grant money would make a difference."
Members of the SCPB include Sally McGuire, Denton, Texas; Jessie Riggs, Wellington; Sydnee Nelson, Clay Center; Mariam Mamah, Tulsa, Okla.; and Hannah Podschun, Winfield.  Members of the philanthropy and grant making class that worked in conjunction with the SCPB to develop the RFP and award the grant include: Tavinia Tucker, San Antonio, Texas; Michael Bond, Wichita; Taylor Fogle and Katy Hamilton, Bartlesville, Okla.; Stevie Heidzig, Rogersville, Mo.; Kaley Rodriguez, Gypsum; and Lauren Strain, Pryor, Okla.