News
March 03, 2011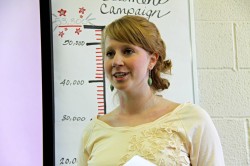 Julie Wilke, Southwestern College graduate fellow, presented her final for her master's degree on Tuesday, March 1.  Her project is to raise funds for the Leadership endowment program.

There is currently $47,000 in the fund.  Wilke's goal is to raise $53,000.

"If we reach $100,000, then with the interest, we can offer $5,000 in scholarships to Leadership students that can be used for room and board," Wilke says.

The Leadership program at Southwestern College does numerous servant activities including Freshman Work Day, Rotary Camp, and trips in and out of state to do service for others.  Wilke is passionate about how important the program is and what it has meant to her.

"Raising this money is so important to me because the Leadership program has shaped me as a leader," Wilke says.  "I believe it is time for the program to grow financially so that we can help other college students learn about being an effective servant leader.  This program allows students to do service projects and learn about their leadership through that service." 

For more information or to donate, contact Wilke at (620) 229-6367.