News
September 01, 2011
Southwestern College students and faculty will be using four new pianos this year through a program sponsored by Senseney Music and the Yamaha piano company.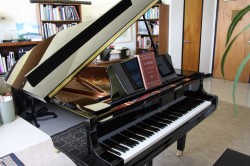 Southwestern is partnering with Senseney, which will loan four new Yamaha instruments to the college. The only cost is the maintenance of the instruments throughout the year. One grand, one upright, and two digital pianos provide students and faculty with what Tim Shook, Southwestern College professor of music, calls a great opportunity.

"It improves the quality of instruments for us, which is helpful in the reputation of the institution," Shook said.  "The students really benefit from the new instruments and having new instruments to hear and play really makes learning more enjoyable."

At the end of the 2011-2012 school year, Senseney representatives will sell the four pianos for a reduced price. The sale, which will take place at SC, will be open to students, faculty, and the community.