News
December 11, 2012
Two students of the George and Linda Cole Summer Music Festival at Southwestern College have recently received awards for compositions they worked on at the festival.

The Music Teachers National Association announced the results of the composition competition for the west central division. Lauren Schmitz, Winfield, won the junior level competition and Charles Bradfield, Derby, received honorable mention in the young artist, collegiate level competition.

The compositions were finalized and submitted as a result of work that took place during the George and Linda Cole Summer Music Festival at Southwestern College. Both Schmitz and Bradfield study under Christopher Schmitz, associate professor of music at Southwestern College and an instructor for the festival.

Lauren Schmitz will advance to the national competition, the results of which will be announced by the end of January 2013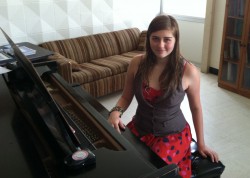 .

The George and Linda Cole Summer Music Festival is a six-day camp held on the campus of Southwestern College.  Campers study with faculty members to develop their musical skills, choosing from tracks in choir, orchestra, jazz, worship, composition, and piano.  The 2013 festival is scheduled for June 2-8.

Scholarships to attend the camp are available through the generous support of musician and former Southwestern College trustee Dr. George Cole and his wife, Linda. Any student recommended for the festival by a private music instructor or school music teacher will receive a scholarship. Additional scholarship aid based on need and merit is also available.

For more information, call (620) 229-6272.