News
June 02, 2017
Thomas Burritt, professor of percussion and director of percussion studies at the University of Texas–Austin, will perform at Southwestern College Thursday, June 15, at 7:30 p.m. The recital will be in the Richardson Performing Arts Center (Christy Administration Building), and admission charge is $10.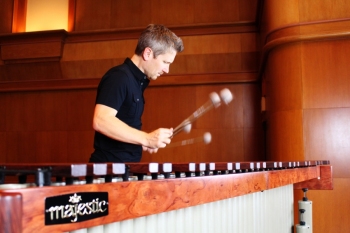 Active in the creation and performance of new music for percussion, Burritt has built a reputation in chamber music as a percussion soloist and a concert marimbist. He has performed regularly at the Leigh Howard Stevens International Marimba Seminar and was a featured faculty performer at the 2007 and 2009 Zeltsman Marimba Festival. In April 2004, Burritt performed in Weill Recital Hall at Carnegie Hall as member of the Hammers and Sticks Ensemble. Later that same year the Hammers and Sticks Ensemble released a CD on the Innova label.
Burritt has earned degrees from Ithaca College School of Music (bachelor of music in education and performance), Kent State University (master of music), and Northwestern University (doctor of musical arts).
As a percussion soloist, Burritt has been active performing percussion concertos by Maki Ishii, Steve Mackey, Joseph Schwantner, Michael Dougherty, David Maslanka, John Mackey, and James MacMillan. Burritt has recorded for guitarist Eric Johnson and recording artist David Byrne. Burritt's first solo CD recording, "All Times Identical – New American Music for Marimba," was released in November 2006. His second solo marimba recording, "Groundlines," is available in iTunes, Amazon, Google Play, Rdio, and Spotify. In August of 2015, Burritt released his latest recording via YouTube, featuring a video album of J. S. Bach's 5th Cello Suite performed on the marimba. In 2009 and 2016, Burritt performed on two Grammy-nominated recordings, "Conspirare in Concert" and "Pablo Neruda: The Poet Sings," both distributed world-wide on the Harmonia Mundi label.
The concert is a part of the The Cole Family Summer Music Festival, June 11-17.  The festival is a seven-day camp held at Southwestern College.  Campers study with college faculty while developing general musicianship and music skills in four areas of emphasis--choir, orchestra, band, and piano. 
For more information about the camp or the concert, contact Brittany Donley, director of camps, conferences, and events at Southwestern College, at (620) 229-6141, or visit the RPAC website.
Southwestern College is a private institution granting undergraduate and graduate degrees and is affiliated with the United Methodist Church.  About 1,700 students attend classes at the main Winfield campus, at six professional studies sites in Kansas and Oklahoma, or online around the world.