News
June 13, 2018
Internationally acclaimed Scottish fiddler and violinist, Brandon Vance, will play a recital on Thursday, June 14, at 7:30 p.m., in the Richardson Performing Arts Center on the campus of Southwestern College.  Tickets are $10 and can be purchased at the door.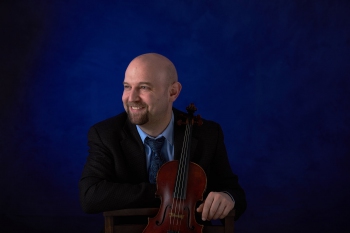 Vance will be the guest artist for the 2018 Cole Family Summer Music Festival at Southwestern College. The annual festival, this year held from June 10 to June 16, brings high school students to campus for a week of music-making and exploration in collaboration with Southwestern College music faculty, students, and guests. Students will also have the opportunity to work with Vance this summer.
Vance is the recipient of Scotland's 2017 Royal National Mòd "Sutherland Cup" in Scottish fiddle, and was the youngest to win the U.S. National Open Scottish Fiddling Championship in 1999 and 2001.
Vance has performed and taught internationally, serving as a guest lecturer at the University of Limerick's Irish World Academy, appearing as guest artist for the 50th Anniversary of the Armagh Piper's Club at the William Kennedy Piping Festival, and being selected as a featured soloist at the 2017 Scottish Royal National Mòd in Fort William.
He holds a graduate degree from the Cleveland Institute of Music, and has performed with Seattle-based Pacific Music Works, Early Music Vancouver, Northwest Sinfonietta, mandolinist John Reischman, vocalist Nadia Tarnawsky, Alex Fedoriouk, uilleann piper Eliot Grasso, and composer Stephen Rice.
In addition to being a founding member of Celtic Ensemble Dréos and World Music Ensemble Alchymeia, Vance is a composer with a distinctive melodic and harmonic vocabulary, having given the world premiere of his original composition "Gael Storm" for fiddle and orchestra with the Cleveland Pops Orchestra at Severance Hall. Vance was music director and violin soloist for the world premiere of "Odyssey of These Days," a work composed by Eliot Grasso, and presented at the Hult Center in Eugene, Ore., as a musical response to a set of nine paintings by Wesley Hurd that deal with loss, grief, and hope. Recently, Vance worked with his Celtic ensemble, Dréos, to compose, arrange, and perform music for the world premiere of Ballet Fantastique's "Sleepy Hollow."
In addition to having a well-established international career as a violinist and fiddler, Vance is also emerging as a traditional Gaelic singer, having been ranked third in the Skye and Sutherland Open Competition at the 2017 Royal National Mòd.