News
February 01, 2012
The Nine Lives Laughatorium and Good Times Improvisational Comedy Troupe will perform a community show on Friday, Feb. 10, at 7:30 p.m. in Messenger Recital Hall in the Darbeth Fine Arts Center.  There is no admission charge.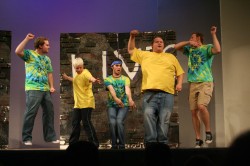 The theme of the show is Improv Olympics which means the group will be split into teams and will compete against each other.

"It's a load of laughs," says Allyson Moon, director of the comedy troupe.  "The cool thing about the Olympics is that it feels like the competition makes the show a bit more interesting.  Parts of the audience may cheer a particular team more, the teams battle, and there will be a winner.  Audience members get to judge and score the performances.  The judges are across the board in age and will award points."

Troupe members include Cody Davis, Montrose, Colo.; Jordy Train, Winfield; Justin Tinker, Las Vegas, Nev.; Chris Cole, Stigler, Okla.; and kitten apprentices Kelcie Parrish, Oklahoma City, and R. J. Schnack, Tulsa.

"We know there will be a lot of youth in the audience so we try to keep a lot of group participation," Moon says.  "Some of the youth could be judges or on one of the improv teams."

For more information about the show, call (620) 229-6272.