News
May 31, 2018
The Southwestern College Summer Theatre Festival will present the Disney musical "Aladdin Jr." on Friday, June 8, at 7 p.m., and on Saturday, June 9, at 2 p.m., in Messenger Recital in the Darbeth Fine Arts Center.  Show tickets are $4 for youth and $6 for adults. 
Participating in the shows are members of the youth theatre camp and the story theatre camp, and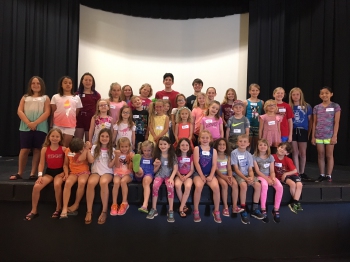 Southwestern College Summer Theatre interns. 
"This is the classic Aladdin story that most of us were introduced to through the animated movie," says director Allyson Moon.  "It has all of the characters that we know and love and love to hate – Aladdin, Jasmine, the Genie, the Magic Carpet, Jafar and many, many more.  'Aladdin Jr.' is just a shortened version of the story, which makes it ideal entertainment for youth and families."
The music for the show will be directed by Jack Warring and Avery Hogan.  Choreography is led by Jessica Burk and Ryan Pangracs.  
"Come see this favorite brought to life on stage," says Summer Theatre Festival intern Hannah Breshears.  "Kids from kindergarten through high school have been working hard to put on this charming production of 'Aladdin Jr.' Bring your friends and family to see the kickoff of summer theatre at Southwestern." 
To reserve tickets, call (620) 221-7720, email boxoffice@sckans.edu, or go online at www.sckans.edu/summertheatre.