News
November 18, 2011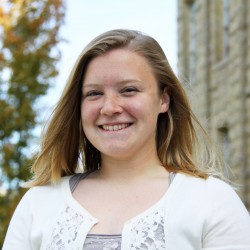 Southwestern College senior women's soccer player Katie Bipes has received the Kansas Collegiate Athletic Conference Champion of Character award.

The Champion of Character Award recognizes student-athletes who have demonstrated the five core Champion of Character values of respect, responsibility, integrity, sportsmanship, and servant leadership in their approach to life, the classroom, and the field of play.

Originally from Topeka, Bipes came to Southwestern to study psychology. She has played soccer at SC all four years and has served as the women's soccer captain for two.

"Katie Bipes is not only a good soccer player; she is a quality example of what it means to be a champion of character," says head women's soccer coach Joe Wood. "You can always count on Katie to do what is right. She has a big heart, a selfless attitude, and a work ethic to be admired."

Bipes is a familiar face in the freshman girl's dorm where she is a resident assistant and in the social sciences honor society, Pi Gamma Mu, which she is vice president.

Bipes, a Washburn Rural High School graduate, is the daughter of David and Amy Bipes, Manhattan.