News
April 04, 2013
Southwestern College's Jinx and Bobo electronic Christmas card, produced by Terry Quiett, has won an award in the fifth annual Sharkie Awards. The awards program, hosted by Brainshark, Inc., honors organizations and individuals that have created standout video presentations. Southwestern College was named a winner in the "Humorous" category.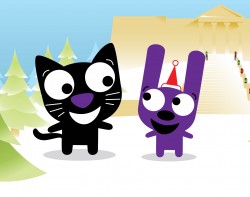 More than 400 entries were submitted in this year's Sharkie Awards. Judges from Brainshark and other presentation experts evaluated submissions based on presentation quality, clarity, organization, and aesthetics. Entries had to demonstrate effective use of Brainshark's technology – which lets users transform static documents, such as PowerPoints, into online and mobile video presentations.

Quiett, Web producer at Southwestern College, produced an animated online Christmas greeting that was posted on the Southwestern College website and e-mailed to alumni. The greeting features Jinx and Bobo, a parody of Hallmark's Hoops and Yoyo, as they riff on Southwestern College traditions and holiday spirit. SC seniors Justin Tinker and Chris Cole provided the voices for the production. Southwestern College graphic designer Susan Burdick provided the background art.

"I was excited and flattered when I found out that we had won and that our work had been recognized," Quiett says. "We create some kind of electronic Christmas card each year. Typically they are more reverential in tone, but this year we decided to create something a little more light-hearted."

To view the award winning presentation, go to www.sckans.edu/christmas.

"The competition in this year's Sharkie Awards was especially fierce, with many organizations using online video presentations to communicate with impact," said Irwin Hipsman, Brainshark's director of customer community. "Terry Quiett from Southwestern College went above and beyond. At a time when it's increasingly important to break through the deluge of communications, Southwestern is using online presentations to inform, motivate and truly 'wow' its audiences. We commend them on the excellent use of Brainshark's technology."

More information about the awards program, including a gallery of winning presentations, is available at www.brainshark.com/campaigns/sharkie-awards-2013.