News
April 19, 2013
Southwestern College students and media publications were recently recognized at the spring conference of Kansas Collegiate Media.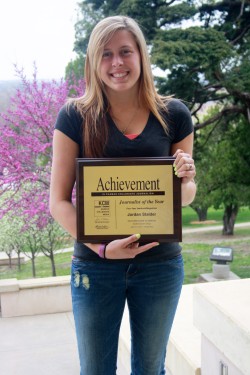 Jordan Stalder, senior from Chapman, was named four-year magazine-yearbook Journalist of the Year. She received a $250 cash award and a plaque for her honor. Stalder also earned second place in caption writing.

"Creating a yearbook is a thankless job. An effective yearbook editor must combine imagination with attention to detail and self-discipline," says Stacy Sparks, associate professor of journalism at Southwestern College. "Jordan Stalder has done an outstanding job of collaborating with others during four years on the Moundbuilder yearbook staff. She has earned the distinction of being named a Journalist of the Year by the Kansas Collegiate Media."

The Moundbuilder yearbook staff earned a bronze medal in the overall competition and took first place for illustration and for cover design.

"The Collegian" student newspaper earned a silver medal in the four-year private college division and UpdateSC (scupdate.org.), the online news site, took second place among four-year private colleges.

Jonathan Woon, Malaysia, and Taylor Posey, Wayne, Okla., took second place across all divisions in multi-media storytelling. Woon also won the four-year private college newspaper news photography competition and earned honorable mentions in news
photography and sports photography.

Clinton Dick, Spivey, took first place in feature writing and sports feature writing; second place in front page design; and honorable mention in sports news writing and sports photography. Dalton Carver, Ozawkie, placed second in review writing.

Carver, Dick, Maggie Dunning, Min Jiao, Kyle Killgore, Bailey VenJohn, and Woon attended the conference at the Hyatt Regency in Wichita.

A total of 163 students and advisers from 18 colleges and universities participated in the conference. In addition to earning awards, the students attended 18 breakout sessions over a variety of journalism topics and heard two keynote speakers.

Woon participated on a panel, "Rethinking student media operations," along with Dave Bostwick, faculty adviser at Baker University; Laura Guy, faculty adviser at Garden City Community College; Hannah Wise, student from the University of Kansas; and Brad Barnes, student at Baker University.

The students were accompanied by Sparks, who was re-elected to a two-year term as secretary of Kansas Collegiate Media. She worked with other officers to coordinate programming for the conference.