News
April 25, 2013
Frank Adelman, Yukon, Okla., and Kaley Rodriguez, Salina, were named the 2013 Outstanding Student-Athlete Award winners at Southwestern College. The ceremony took place Wednesday, April 24, in Stewart Field House.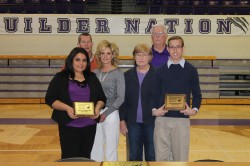 The outstanding student-athlete award is given in memory of Tracy Young by Bill and Georgianna Young. Tracy was in the class of 1982. The award is presented to the top senior female and male student-athletes who demonstrate exceptional performance in athletics, academics, leadership, and college and community service.

Adelman is a biology major. He is a two-time NAIA Cross Country All-American, an NAIA Track and Field All-American, and has earned multiple Champion of Character awards at both the KCAC and the NAIA level. He has also qualified for nine NAIA cross country and track and field national championships. Adelman has been involved in student government, and has been a lab tutor for "Science, Society, and the Environment."

Rodriguez is an elementary education major and a leadership studies minor. She is a four-year member of the volleyball team, and was a KCAC Academic All-Conference selection in 2012. She is an assistant teacher in the Southwestern College Learning Center, is a resident assistant in the freshman residence hall, and is actively involved with Leadership Southwestern.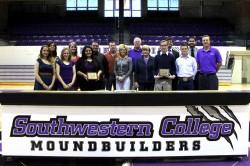 Nominees also included:
 Sydnee Nelson, Clay Center, women's cross country
 Melissa Roetzer, Dodge City, women's tennis
 Rhea Rollins, Kansas City, Mo., women's track and field
 Alyson Sparkman, Owasso, Okla., women's soccer
 Jordan Barrett, Oologah, Okla., football
 Michael Morales, Ulysses, men's basketball
 Jessie Riggs, Wellington, men's tennis
 Austin Sacket, Derby, men's soccer
 Bobby Weidner, Libertyville, Ill., men's golf

This was the 15th annual presentation of the student-athlete award.