News
April 15, 2019
Members of the Southwestern College student media staffs won 19 individual journalism awards while attending a state journalism conference this week. The awards for work created and published in student media and for an on-site photography shootout contest were announced during the spring conference of Kansas Collegiate Media April 7 and 8 in Wichita.
T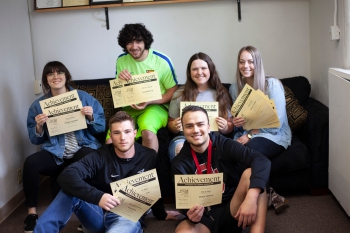 essa Castor, Clearwater junior, won a first place award in the four-year private college newspaper division feature photography category for her photograph of theatre students preparing for the "Fools on the Hill" performance. She also took second and third in sports photography and second in feature photography. Castor was awarded second place for front page design and an honorable mention for interior page design. Castor took third place in editorial writing and earned honorable mentions in headline writing and newspaper sports writing.
Cale Eirich, Lincoln, Nebraska, senior, took third place in sports feature writing and earned honorable mention in editorial writing.
Drake Vittitow, Blanchard, Oklahoma sophomore, placed third in sports news writing.
Lauren Sieh, Coweta, Oklahoma sophomore, earned an honorable mention for review writing and Madison Stumbough, Bonner Springs junior, earned an honorable mention for column writing.
Castor and Victoria Lybarger, Winfield senior, participated in an onsite photo competition led by Adam Vogler, central region chair of the National Press Photographers Association (NPPA). The competitors met with the NPPA photographer for rules and requirements and then had seven hours to capture images, edit and select photos, write captions, and submit their work to the coordinator. The following morning, competitors met to review, discuss, and judge entries. Lybarger's feature photo and her portrait were each awarded second place. Castor earned third place for her feature photo and for her portrait.
The student media online site, updatesc.org received a bronze medal.
Emily Berry, Cimarron junior, and Mallory Graves, Ardmore, Oklahoma freshman along with Castor, Lybarger, Stumbough and Vittitow attended the conference April 7 and 8 at the Drury Plaza Hotel Broadview in Wichita. They were among 156 students and advisers from 16 colleges and universities participating in the conference.
In addition to earning awards, the students heard two keynote speakers. Chet Kuplen, CEO of Sports in Kansas spoke about establishing, promoting and running a sports media site. Sports in Kansas is the most recognized media platform in the state of Kansas for high school sports coverage.
Trooper Ben Gardner of the Kansas Highway Patrol delivered the second keynote. Gardner (@TrooperBenKHP) established #TweetingTrooper for the Kansas Highway Patrol. The KHP social media presence has been a model for law enforcement agencies across the country. Gardner uses social media to engage with journalists and to share timely information.
The students also participated in breakout sessions with topics as varied as community journalism, media design, dual language media, magazine journalism, photography, social media, and advice from recent graduates.
They were accompanied by Stacy Sparks, associate professor of journalism. Sparks finished a two-year term as president of Kansas Collegiate Media and was elected to the office of treasurer for the next two years.