News
May 30, 2019
Raquel Resendiz, a 2019 graduate of Southwestern College, was named the first recipient of the Dr. Dawn Pleas Student Affairs Leadership Award during Honors Convocation Thursday, April 12.
Th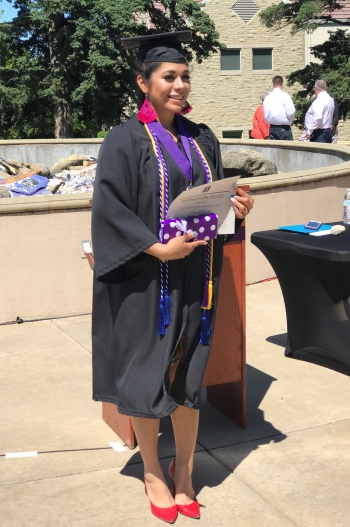 e Dawn Pleas Student Affairs Leadership Award celebrates a student who has been a role model on campus, regardless of whether or not they held a formal leadership position. This award is designed to promote the Southwestern College values of personal growth, responsible citizenship, and leadership through service.
Resendiz is from Ciudad Juarez, Chihuahua, Mexico. She graduated cum laude (with honors) with a bachelor of arts degree in business administration and a minor in leadership. She was a member of Leadership Southwestern and of Interact (an international student organization), and was a resident assistant.
"She was a great role model and very strong academically," says Dan Falk, dean of students at Southwestern.
The award is named for Dawn Pleas, who has worked in a variety of positions related to student affairs at Southwestern and currently is the vice president for student success. Student affairs staff named the award for Pleas in honor of her 25 years of service to students at the college. The process to determine the finalist is started by the nomination of two students by each of the student affairs teams (resident assistants, student foundation executives, and student government executives). The names of those students are then sent to the student affairs award committee, which reviews the names and determines the recipient.
Pleas was thrilled that Resendiz was chosen.
"Raquel is a phenomenal individual and I am so pleased her name is attached as the first-ever winner of this award," Pleas says. "Eventually I feel like this award will be known as just the Pleas award, and that makes me think of my dad (Donald Pleas), and he would be so proud."