News
April 28, 2020
Southwestern College will celebrate the graduating class of 2020 with a virtual ceremony on Sunday, May 10, at 2:30 p.m. Sandra Gasca-Gonzalez, a 1994 Southwestern College graduate and board of trustees member, will deliver a brief address to the Class of 2020.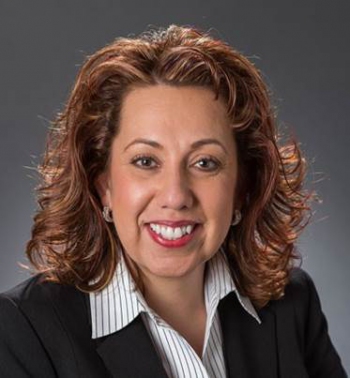 While the college is planning in-person commencement exercises for the weekend of August 22-23, the celebratory virtual ceremony planned for May 10 will mark the completion of academic programs for senior and graduate students. In addition to an address from Gasca-Gonzalez, the virtual ceremony will include a conferral of degrees by President Brad Andrews and remarks from academic dean, Ross Peterson-Veatch.
The virtual ceremony may be accessed on the college's YouTube channel at YouTube.com/SouthwesternBuilders. A link to the ceremony will be featured on the college's website and social media pages. Members of the Class of 2020 are asked to participate in the ceremony by posting pictures of their at-home celebrations on social media using the hashtag #Builders2020
"Everyone in our campus community is looking forward to a commencement ceremony where we can be together, but for the time being, we wanted to hold a virtual celebration to mark and celebrate this moment of completion and attainment for the Class of 2020," said President Brad Andrews. "I'm excited for the message Sandra will deliver to the Class of 2020. Sandra spends her days working to find solutions to some of our nation's most perplexing societal challenges regarding the well-being of our children and young adults. Her work at Center for Systems Innovation presents constant adversity and challenge, and she continues to be courageous, dedicated, persistent, and hopeful. She is a true representation of a Moundbuilder living and working with purpose."
Gasca-Gonzalez is the vice president of the Annie E. Casey Foundation's Center for Systems Innovation which entails overseeing national and state reform efforts in three key areas: child welfare, young people transitioning into adulthood, and juvenile justice. The Annie E. Casey Foundation is devoted to developing a brighter future for millions of children at risk of poor educational, economic, social, and health outcomes. Throughout 2018, the Casey Foundation provided $127 million in grants and invested nearly $117 in housing, and community and economic development.
Prior to assuming this role in 2018, Gasca-Gonzalez served as the director of the Jim Casey Youth Opportunities Initiative, which aims to equip young people leaving foster care with the relationships, resources, and opportunities needed to achieve well-being and success as they transition into adulthood. As the director of the Annie E. Casey Foundation's Jim Casey Initiative, Gasca-Gonzalez led national, state, and local efforts to improve policies and practices to ensure young people have the opportunity to successfully transition from foster care to adulthood. She is known for her fearlessness in tackling deep-rooted challenges and her willingness to go into diverse communities to increase engagement in a way that benefits children and families.
Gasca-Gonzalez became director of the Jim Casey Initiative in April 2015 after serving as executive vice president of Practice and Leadership Integration for KVC Health Systems, where she led nationally recognized initiatives to transform child welfare systems with clinical best practices, change management skills and results-based measurement.
Before that, she was on assignment from KVC to one of the most embattled public child welfare systems in the U.S. – the Washington, D.C., Child and Family Services Agency – where she helped implement best practices and championed a culture shift. This work led to remarkable outcomes for D.C. children and families, including sharp reductions in the length of time children spent in foster care and dramatic increases in the number of children being placed with families. Additionally, Gasca-Gonzalez has served as president of KVC Nebraska and worked for Youthville (now EmberHope), where she led the implementation of child welfare privatization for the South Central area of Kansas.
Gasca-Gonzalez is a published author in the area of human trafficking of young people in foster care and translating adolescent brain science into child welfare practice. As an alumna of the Annie E. Casey Foundation Fellowship program, she also is a graduate of the National Hispanic Leadership Institute, a recipient of an Executive Leadership Certificate from Harvard University, and has been recognized by business journals in two states as a "40 Under 40" leader. She earned a master's degree in psychology from Emporia State University. She is a 1994 graduate of Southwestern College, where she earned her bachelor's degree in psychology.