About
Dr. Brad Andrews became the president of Southwestern College July 1, 2015. Formerly senior vice president for student success and strategic enrollment at Carthage College in Kenosha, Wisc., Dr. Andrews is the 19th president of SC.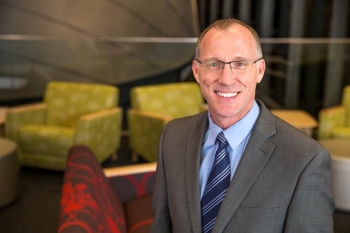 "We feel Brad Andrews is an ideal fit for Southwestern College, and could not be more pleased that he will be the next president," says Michael Lewis, SC trustee and chair of the search committee. "He has extensive successful experience in three areas crucial to the continued success of the college—fundraising, enrollment management, and student life. He also is a collaborative leader who will work well with faculty and administrators already in place to extend the excellence we have come to expect at Southwestern."

A native of Miami, Fla., Andrews earned his bachelor's degree in English from the University of Missouri in 1990 and went on to earn a master's degree in education from Drake University in 1994. In 2009, he earned a Ph.D. in educational leadership and policy analysis from the University of Wisconsin.

"For more than 130 years Southwestern College has defined a truly student-centered approach to higher education," Andrews says. "It is obvious that an exciting combination of tremendous people, a pioneering spirit, and outstanding programs have Southwestern College poised for great success moving forward. I am honored to be chosen to lead the Builder nation into the next era."

Andrews's leadership encompasses three divisions at Carthage College, including the departments of admissions, financial aid, student affairs, first-year academic advising, and religious life. His responsibilities include operational oversight for strategic institutional priorities, with emphasis on the immediate improvement of retention and graduation rates.

As a member of the Carthage executive leadership team, he has helped guide an incredible period of growth for the college. Since 2000, Carthage College has:
grown its campus with more than $200 million in campus renovation and construction projects.
grown its academic reputation as demonstrated by a rise in national rankings, by significant increases in the number and quality of freshman applications, and by national recognition for programs such as participation in the NASA undergraduate research SEED program.
grown its enrollment from 1,500 to more than 2,500 full-time students.
Andrews arrived on campus in 1999 and quickly worked with staff and students to remake the student affairs program. After eight years as dean of students, Andrews was appointed vice president for enrollment and student life. In this role, he provided leadership for the completion of a campus strategic enrollment growth initiative. With a particular emphasis on entering new admissions markets and raising the academic reputation of the college, the college surpassed the 2,500 student mark. This enrollment figure represents a 67% increase from the full-time student enrollment 10 years earlier. This accomplishment was completed while maintaining the college's discount rate, even through the national economic downturn in 2008-09.

In 2010, Andrews was asked to serve as senior vice president for academic resources, following the departure of the chief development officer. For two years in this role, he served simultaneously as the chief enrollment officer, chief development officer, and senior student affairs officer. During this period, enrollment continued to increase, the academic reputation of the college continued to rise, and fundraising results were accelerated after the national economic crisis.

Andrews will move to Winfield with his family. His wife, Trish, was born and raised in Harvard, Ill., a small dairy farming community. She graduated with a bachelor's degree in English from Carthage College in 1997. Trisha earned a master's degree in education from Carthage, and a master's degree in history from the University of Wisconsin-Milwaukee. She currently serves as director of academic advising, at the College of Lake County in Grayslake, Ill., where she also has taught courses in U.S. History. She spent the first eight years of her professional life working in student affairs and career services at small private colleges.

Brad and Trish enjoy spending time with their four children—Graham, 17; Tyler, 13; Madeline, 6; and Gwendolyn, 3. Brad is a golfer and enjoys running; he has completed 10 marathons. Trish is a photographer.