Freshman Experience
Freshman Blog
September 13, 2013
The first several weeks at college have been so much fun! I have met many new friends along the way. I feel as though living on campus was a good choice. It's usually fairly quiet so I don't have to worry about not being able to focus on my studies. I've finally mastered cooking a few dorm style recipes including bland, microwavable macaroni and cheese, PB & J sandwiches, and hotpockets. Cooking these meals was fun at first, but after managing to burn a hot pocket in the microwave, I started craving my parents home cooked meals more than ever.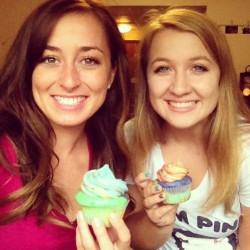 Since classes have started my roomate and I have decided to make it a weekly tradition to walk over to College Hill Coffee for their special "Cupcake Thursday". This is always a highlight to our week because we both have a big sweet tooth and their cupcakes are soo tasty!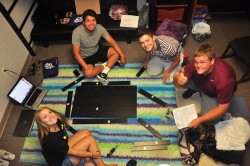 My roomate and I lofted our beds and now have a sofa under one and a tv under the other. This created a cozy living space where our friends come over to watch movies or just enjoy each others company. We also bought a coffee table to add just the perfect touch. Our wonderful new friends from Wallingford Hall even came over to help us put it together! I was worried that living in such a small space would be an issue, but realistically it's nice beecause there is less for me to keep clean. Speaking of that, it's family weekend so I'm off to start cleaning my room before my parents arrive!
-Ashley