Freshman Experience
Freshman Blog
October 07, 2013
Being a part of the Lady Moundbuilder Tennis team is such a wonderful oppurtunity. Playing tennis at the collegiate level is very challenging as well as rewarding. It has taken up a large portion of my free time but it is definitely worth it! Balancing out homework, social time, and practice can be quite tricky at times. However, I have managed to make it work!
As soon as I walked onto campus this fall I had the security of knowing that there was a family here ready to welcome me and befriend me as one of thier own. This family was also known to me as the tennis team. It was awesome because each one of them shared a common interest with me. They each are passionate about tennis and love the sport just as much as I do.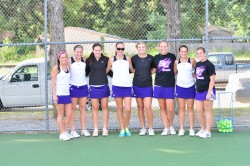 The best part about being on the tennis team is the family-like aspect that it creates as well as the wonderful memories that we are making together on and off of the court! Collegiate tennis is much different than high school tennis. It moves at an accelerated pace and we are competing at a higher level.
As a team we do not only compete in tennis matches but we are also committed to serving others through volunteer projects. Our first service project was done with all of Southwestern students to help out the Red Cross organization. We packaged relief kits that will be given to victims of natural disasters. It was a rewarding and eye-opening experience that really made me appreciate what I have.
This year, Southwestern College Tennis held the first "Ace for the Cure" tennis tournament. We played our matches with PINK tennis balls and we all wore pink clothing to raise awareness for breast cancer! The proceeds from the pink tennis balls and the pink SC tennis t-shirts that we purchased went towards helping fight breast cancer. Knowing that we were able to play the game we love and help support a great cause was very fullfilling.
Although our main season is not until the Spring, it was great to be able to expereince a few tournaments this fall to get an idea of what they are like. I have been given the awesome oppurtunity to play doubles with my older sister, Kelsey. It is so much fun and these are memories that I will be able to cherish forever! I am looking forward to beginning off-season workouts and getting one step closer to earning that KCAC Tennis Champion title.