Green Team Camp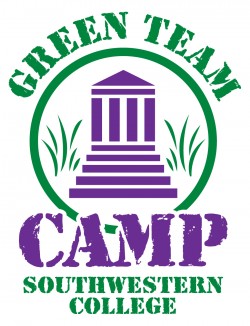 Dates:
July 11-16
Cost: $250
Being GREEN
What does being green really mean? At Southwestern College, green is a new way of thinking. A new way of living that is healthier for our planet, the environment and all of us too. For the past century, the way humans have been living has taken a toll on the planet Earth. Now, we must make changes and live differently.
At the Southwestern College Green Team Camp, we will learn how to live in a way that is not harmful to our planet. We will discover the fascinating new energy technologies that will power our lives in the future and learn about the small changes that we can all make in our lifestyles that will be favorable to the environment.
We all live together on this Earth, and we must work together as a team to help our planet become healthy again. If you will be graduating in 2011, 2012, 2013 or 2014, become a part of our team at the Green Team Camp, July 13-19, 2010 on the Southwestern College campus in Winfield, KS!
Think…Live…Be GREEN!
What will we do?
The week will be filled with both physical and mental green educational experiences as well as leadership-building team activities.
You will:
You'll build a solar car
Play a planet-saving simulation activity
Set goals to help make a difference in your school, community & home
We'll head to several locations to experience green living first-hand:
Greensburg, KS
The Flat Ridge Wind Farm
The Winfield Recycling Center
The Southwestern College Biology Field Station
And we'll make sure you have plenty of fun!
Cookout
Mini-Olympics
Movie Night
Rock Painting for Moundbuilding Ceremony
Ice Cream Night
End of Camp Blowout!!
The week at a glance
Sunday, July 11
Check In/Campus Tours from 4-6 pm

Team Time

Mini-Olympics

Sundee Night
Monday, July 12
Travel to SC Field Station

Plan it Green Game

Start on solar powered car

Cookout & watermelon feed
Tuesday, July 13
Plan it Green Game

​

Movie Night
Wednesday, July 14
Spend the day touring the Flat Ridge Wind Farm and Greensburg
Thursday, July 15
Think . . . Live . . . Be GREEN! Competition

Tour the Winfield Recycling Center

Moundbuilding Ceremony
Friday, July 16
Travel to SC Field Station

Solar Car Races

End of Camp Blowout

Head Home at 8 pm
Meet Camp Director Jason Speegle!
Jason is Southwestern College's Green Team Director. The Green Team is a service-learning program dedicated to the environment at Southwestern College. Through a series of projects and classes devoted to conserving the Earth's natural resources and lessening the impacts of climate change, members of the Green Team learn valuable leadership skills and gain experience working with new environmentally friendly technologies.
Green Team Vision:
Click here to listen as Jason Speegle Discusses Green Team.
The Southwestern College Green Team is a service-learning program dedicated to changing the overall culture of Southwestern College toward one of responsible citizenship in the area of environmental sustainability. We will accomplish this shift in culture by:
Creating a living laboratory of sustainable learning in which faculty, staff and students are educated both inside and beyond the classroom in the principles of environmental stewardship of which all constituents of the university will be expected to implement practically in their own actions and behaviors.
Implementing organizational changes that move the institution toward a more environmentally sustainable future, eventually achieving carbon neutrality on our campus and beyond.
Reaching out to influence the communities of Winfield, Cowley County and beyond with the principles and practical applications of environmental sustainability.
Jason graduated from Southwestern College with a degree in Physics in 1999 and finished his Master's Degree in Leadership in December 2008.