What is SAAB B2B?
SAAB B2B 2009 - 2010
Welcome to the Student African American Brotherhood (SAAB) Brother to Brother (B2B) page of Southwestern College. The Southwestern College chapter of SAAB B2B is affiliated with SAAB National, a national organization located in middle schools, high schools, and college campuses in 39 states. We are the ONLY chapter in Kansas. Visit SAAB National's website at: www.saabnational.org.
SAAB B2B Mission: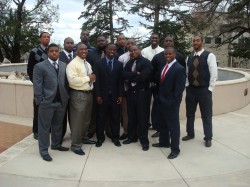 SAAB B2B is a dynamic organization established specifically to assist our participants to excel academically, socially, culturally, professionally, and in the community. SAAB is primarily comprised of male students who strive for academic excellence and make a commitment to plan and implement programs that benefit their community at large. We encourage our participants to embrace leadership by being positive examples for each other through a strong commitment to academic achievement, brotherhood, and community service. We provide weekly study sessions, weekly developmental seminars for students of all ages, business meetings, social and religious activities, and work with various non-profit service agencies (i.e., Habitat for Humanity, Big Brothers and Big Sisters, Boys Club, etc.).