Basic Information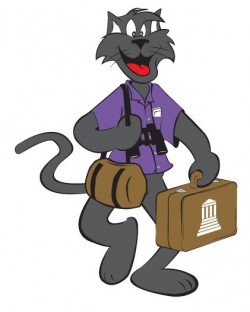 Join Global Jinx for an exciting semester in China.
When
The 2015 spring semester at Huangshan University begins on Monday, March 9. Students will need to leave for China on or before March 3 to insure they will be settled on campus in time for the start of classes.
Where

Students will be living and studying at Huangshan University in the city of Tunxi, located about 240 miles southwest of Shanghai in southern Anhui Province. The city of Tunxi is situated in a picturesque valley with mountains on all sides. The Xin'an River runs through the heart of the city. Tunxi is an ancient city that currently has about 130,000 inhabitants. The old part of town, called Ancient Street, has been preserved with some structures dating from the Ming and Qing Dynasties (1368 – 1911). The buildings along Ancient Street are built of brick, stone, and wood in the local Hui style, with white walls and gray tiled roofs.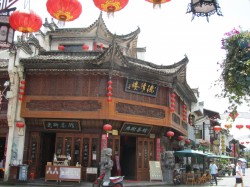 A teahouse on Ancient Street located near several outdoor cafes.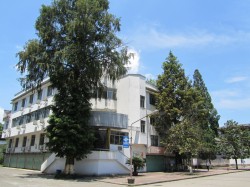 The international student dormitory on the north campus of Huangshan University.
Huangshan University currently enrolls about 15,000 full-time undergraduates coming from all over China, the United States, Korea, France, and Hong Kong. The surrounding area of southern Anhui Province has a rich cultural history. There are several UNESCO World Heritage sites within an hour's drive of the university. The ancient villages of Xidi and Hongcun, and the beautiful Huangshan Mountains each make for a great day or weekend getaway.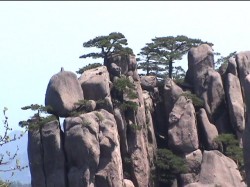 An example of the incredible scenery of the Huangshan Mountains.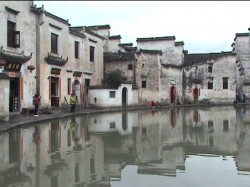 The water village of Hongcun.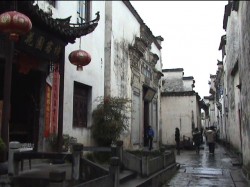 A narrow alleyway in the village of Xidi.

Language Requiremet

Previous knowledge of Chinese is not required.

Purpose

The purpose of the Semester in China Program is to give students the opportunity to learn Chinese and to gain international travel and living experience. Students participating in the Semester in China Program will have the opportunity to:

a) learn Mandarin Chinese
b) learn about the people of China and their culture
c) make Chinese friends
d) learn how the Chinese government works
e) learn about the history of China
f) travel around China
g) experience China's spectacular economic boom
h) learn about the environmental and social problems associated with the economic boom
i) develop knowledge about international travel
j) accept diverse viewpoints
k) bond with a group of people
l) have fun

There will also be an opportunity to learn about China's educational system and about doing business in China.

Why China?

China's appeal lies in its people, its culture, and its recent development into one of the world's major economic powers. Students participating in the Semester in China Program will have the opportunity to observe the social and economic changes taking place and earn college credit toward their degree, all while enjoying China's culture, food, and friendly people.

Find out more about the Semester in China Program by checking out the links on the left.