Athletic Training
News
March 16, 2011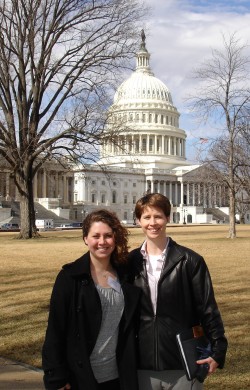 Kindell Copeland, a junior in Southwestern College's athletic training education program from Wichita, and Lisa Braun, SC's director of athletic training education, participated in Capitol Hill Day in Washington, D.C., on Feb. 25.

"We spoke to legislators and educated them on the profession of athletic training and asked support for an important concussion management bill," Braun says. "While we were there we were able to take a tour of the Capitol Building."

On Feb. 26 and 27, Copeland attended the iLead conference. According to Braun, the conference was held for athletic training students to help sharpen their leadership skills and help them learn how to become a successful professional.

On the same two days, Braun attended the athletic training educators' conference.

Copeland is one of just two students who received funding from the Kansas Athletic Trainers' Society to represent the state of Kansas.