Leadership
Mission Statement
"Changing ourselves and the world around us through servant leadership."
Vision Statement
As a Team, we are committed to making a positive difference and to leaving an impacting legacy. Recognizing the power of service, we accept the responsibilities of:
Challenging the Process

Inspiring a Shared Vision

Enabling Others to Act

Modeling the Way

Encouraging the Heart
In fulfilling these responsibilities, we will be loyal to and respect each other as we strive to obtain our personal missions.
Recent Team Events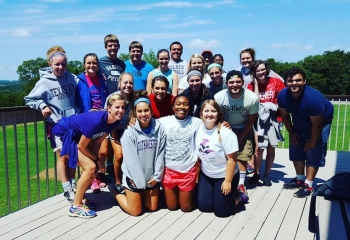 Recently the Leadership team participated in a team bonding and building experience at the high and low ropes courses at Camp Horizon!
More Information
For more information check us out on Facebook and Instagram.
Immediate questions or comments can be directed toward leaders@sckans.edu. We would love to hear from you!

Like our page on Facebook!
Here we update alumni, parents, community members, and many others of our events, fundraisers, and service work throughout the year.
Recent News