Instrumental Ensembles
Check out the Official South Kansas Symphony Website!
www.southkansassymphony.com
Southwestern College Concert Band

Our Objective...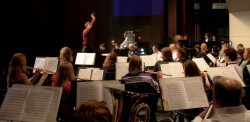 The Concert Band will study and perform quality literature representing a wide range of musical styles. Participation in the band will allow students to develop their musicianship and idiomatic performance skills. In the course, students will develop musical skills in an environment that encourages both teamwork and leadership. They will discover, prepare, and present fine works for wind ensemble as well as perform contemporary music at selected Moundbuilder athletic events. All students, regardless of career goals, will be afforded the opportunity for cultural enrichment.

Scholarships are available on a competitive basis for incoming students. They are based on auditions held with the faculty. If interested, please contact the Admissions Office or the Music Office.

South Kansas Symphony at SC offers students a variety of musical experience in the orchestral field, performing orchestral literature from the classics to pop music. The college owns orchestral instruments such as cello, basses and A clarinets which are available to students enrolled in the orchestra. The group is open to all Southwestern College and Winfield area orchestral musicians.
Season schedule and ticket information at www.southkansassymphony.com.
Youth Symphony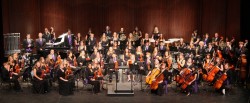 For 60+ high school and exceptional middle school instrumentalists, the SC Youth Symphony performs 7-9 concerts per season.
The Southwestern College Youth Symphony has begun its 10th season scheduled for August 2015-May 2016. Executive Director, Ishmail Farid and Musical Director, Jayme Hayes focus on providing musical training and performance opportunities for talented students in South-Central Kansas and Northern Oklahoma. SC Youth Symphony strives to maintain a rich heritage of classical music in Winfield, Kansas. The SC Youth Symphony encourages students to achieve musical excellence, function as members of a team, and appreciate the talents of peers in the ensemble. Many musicians make lasting friendships with other members of the orchestra.
For more information, contact Ishmail Farid at Ishmail.Faris@sckans.edu or call 620-229-6113.
African Drum & Dance Ensemble
Southwestern College Drum & Dance Ensemble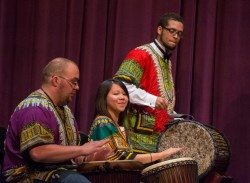 The Southwestern College African Drum & Dance Ensemble learns, explores, and shares aspects of Sub-Saharan African music, dance, and culture with the SC campus and community. The SC African Drum & Dance Ensemble is open to any student or community member who wishes to share in the exploration of Sub-Saharan African culture through music.
For information about joining or to inquire about booking the ensemble for performance, please contact Professor Jeremy Kirk at jeremy.kirk@sckans.edu.
Chamber Ensembles
Williams' String Quartet
Current members of the Quartet are: Ashton Humbert, Brandon Pew, Eva Farid and Troy Fort.