Theatre Arts
Summer Theatre Festival
Southwestern College Summer
Theatre Festival 2014
Production, Camp & Workshop opportunities
for performers of all ages!
Day Camps:
Grades K-3 STORY THEATRE CAMP May 27 – May 31
Bring to life some of your favorite children's stories, working with Allyson Moon and SC students!
Grades 4 -6 MUSICAL THEATRE PERFORMANCE CAMP June 2 – 6
Develop and perform exciting musical theatre scenes, songs and dances with Allyson Moon and SC students!
Grades 6 - 12 IMPROVISATIONAL ACTING CAMP/ADVANCED IMPROV (Grades 9 & up) June 16 - 21
Develop original characters and scenes in a comedy format. All levels of experience are welcome!
Grades 6 - 8 TECHNICAL THEATRE CAMP June 30 – July 3
Develop skills in sets, lights, costumes, make-up, and more with Allyson Moon and SC Summer Theatre Interns.
Grades 6 - 8
PLAYWRIGHTING CAMP/ADVANCED PLAYWRIGHTING CAMP (Grades 9 & up)
June 16 – June 21
Develop skills in writing original scenes and short plays. All levels of experience are welcome!
Optional: If participants and their parents accept the invitation, involvement in camp automatically makes participants grade 4 and up members of the cast of DISNEY'S THE LITTLE MERMAID.
All DAY CAMPS are $20. For information on summer camps, or to register, contact the Winfield Arts and Humanities Council at 620-221-2161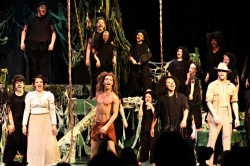 Residential Camp:

Grades 6 – 12 SOUTHWESTERN COLLEGE SUMMER MUSIC FESTIVAL June 9 -14
Join the SC music department for their Music Festival in the summer of 2014. The festival will include a Musical Theatre track.
Disney's Tarzan, Summer '13


For more information on the Summer Music Festival contact Director of Camps & Conferences at (620)229-6141, 1-800-846-1543 ext. 6141, dir.campconf@sckans.edu.
Productions
9 LIVES & FRIENDS improv comedy showcase, starring members of the 9 Lives Improv Troupe and
students of the summer improv classes. Entertainment for the whole family.
Performance: June 21st.
DISNEY'S THE LITTLE MERMAID Ariel, King Triton's youngest daughter, has always longed to be a part of the human world, so when the evil sea witch, Ursula, grants her the opportunity to sprout legs and go after the heart of Prince Eric, she jumps at the opportunity. But with Ursula working against her she'll need help from her friends and family if she is ever to see her dreams come true.
Auditions: Open for all ages, are May 30th from 6:30 to 8:30 pm and May 31st from 10 am to noon and 1 pm to 4 pm in the Richardson Performing Arts Center at Southwestern. Prepare a song and either a monologue or a children's story. Entertainment for the whole family.
Performances: July 11-13
NEXT TO NORMAL tells the story of a mother, Diane Goodman, who struggles with bipolar disorder and the effect that her illness has on her family. This contemporary musical is an emotional powerhouse that addresses such issues as grieving a loss, ethics in modern psychiatry, and suburban life. With provocative lyrics and a thrilling score, this musical shows how far two parents will go to keep themselves sane and their family's world intact. Entertainment for adults.
Performances: July 24-26
For more information, you can call SC Theatre Arts Office:
(620) 229-6171
(800) 846-1543 ext. 6171









































I Love You, You're Perfect, Now Change Summer '13