Green Team
Thank you for your interest in the Southwestern College Green Team!
Founded in 2007, the SC Green Team is a program composed mostly of students along with faculty and staff who are interested in making Southwestern College and the surrounding area a more environmentally friendly place. Through small endeavors like recycling to larger projects such as creating sustainable energy, the SC Green Team hopes to create a positive impact on the world around us and be good stewards of the natural resources of the Earth.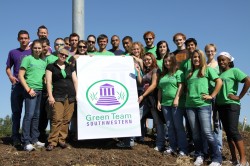 We need your help! Please look around and read more about the Green Team and how you can be a part of this new, exciting program. Scholarships are available for students who want to be Green Team members.
Questions?
Want to learn more about the Green Team, please feel free to contact Green Team Director Alice Bendinelli with any questions.
Recent News