News
April 11, 2016
The Southwestern College Green Team has funded, designed, and planted a butterfly garden on the south side of the Beech Science Center at Southwestern College. The project was completed with financial backing and assistance from Southwestern College alumni Jason Speegle, Ken Kraus, Jonathan Leeper, Alex Gottlob, and the Rick and Sue (Kraus) Ferree family.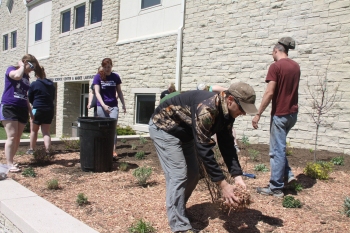 The butterfly garden will serve several functions, according to Gottlob.

"The idea of bringing this butterfly garden to SC is two-fold," Gottlob says.  "First, this will be a benefit to the plants and animals, specifically pollinators like bees and butterflies.  Secondly it will serve as a site for education and awareness for all students in the area to learn about pollinators and butterflies. We hope all visitors including professors and their students can benefit from having this as a learning site."  
According to Kraus, it has been a great experience for Green Team members and community volunteers who have helped.  

"Local volunteers found it rewarding to have the opportunity to work side by side with the Green Team students, including former SC president Carl Martin," Kraus says.

"There are no set plants or criteria for butterfly gardens other than that they attract butterflies. One of the best ways to accomplish this is to utilize plants that can serve both as a food source but also as a host to eggs and larvae. Butterfly gardens are not new but in the last several years there has been an increase in participation to construct these gardens as Monarch and other insect populations are at risk," Gottlob says.  

"In our minds, pollinator and butterfly areas are a more sustainable way to garden and more of these gardens are needed due to the decline of pollinators and human food sources being at risk," Gottlob says.  

Gottlob is using and utilizing plants that will bloom and flower throughout the spring, summer, and fall seasons and create pollen as well as food sources for insects as they migrate through or as they live in the garden and generate offspring.

"We came out last fall and replaced all the soil with a mixture of top soil and composted manure which allowed us to more naturally increase the soil structure making it more desirable for a lot of these plants," Gottlob says.  "Since we chose to plant some plants by using established plants and some by seed, immediately there will be flowers to see and soon there will be butterflies and bees coming to those flowers.  Other plants that we have planted such as purple prairie clover, zinnias, Sunflowers, and a variety of milkweeds will establish themselves throughout the year all while becoming more numerous in years to come by self-seeding.  It is a slow process but one that in the end will create an environment that is self-sustaining and won't require a lot of maintenance."

This group hopes that this garden will provide a model for creating more natural habitat on the Southwestern College campus and in the community. Members also would like to raise money to put up interactive signage about pollinators in the garden.  If you would like to help, please contact the institutional advancement office at Southwestern College at (620) 229-6279.  For questions about butterfly gardens or how to plant one, call Alex Gottlob with Gottlob Lawn and Landscape Nursery and Garden Center at (620) 222-8870.