News
March 02, 2022
Southwestern College has announced that Sue Webb is the new director of Green Team Southwestern.
Webb is in her fourth year at Southwestern College and is associate professor of English.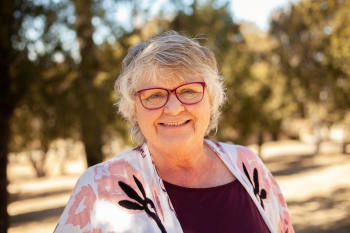 "We are excited to have Dr. Webb join the Service-Learning Council (Leadership and Discipleship Teams) as director of the Green Team," says Cheryl Rude, professor of Leadership Studies and academic director of Leadership Southwestern. "Sue's passion for engaging students in active learning will be a great fit for the Green Team."
Webb, a first-gen student, spent the majority of her life in Wichita and started college at age 39. She earned an associate of science in computer science from Butler Community College, bachelor of arts degrees in psychology and creative writing from Wichita State, then attended graduate school at Michigan State University (2006-2012), earning her master of arts in digital rhetoric and professional writing and her Ph.D. in rhetoric and writing/nonfiction.
Rick Cowlishaw, professor of biology and academic director of the Green Team, supports the Green Team by offering the academic minor, sustainability and environmental studies.