Amp It Up! Worship Band Camp
Amp It Up! Worship Band Camp turns up your skill level and deepens your faith in Christ.
The camp experience is geared towards high school students, grades 9 – 12, and takes place on the campus of Southwestern College June 2 – 6, 2020.
2020 Amp It Up! Church Commitment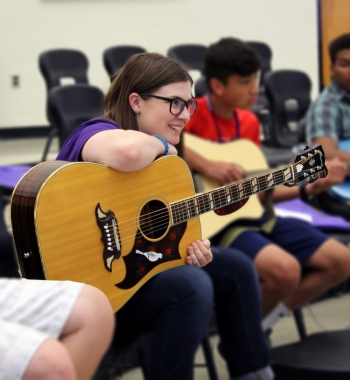 A special early-bird discounted tuition rate of $300 is available to students who are sponsored by their church by March 1, 2020. After March 1, tuition for the camp will increase to $350. The tuition includes lodging, meals, activities, and instruction.
For five life-changing days, you will be mentored and taught by local worship leaders and will have the opportunity to perform with other Christian bands, artists, and high school and college worship leaders.
---
Amp It Up! Camp on Facebook
---
---
---
Check us out on Facebook!
Check us out on Twitter!
Check us out on Soundcloud!
---
Specialized Tracks
Keyboard players will play with the keyboard artists, drummers will learn drumming from the top band drummers. Each talent will work with similarly gifted persons.

Available tracks:
Songwriting
Lead/Background Vocals
Lead Electric Guitar
Rhythm Guitar
Drums
Bass
Piano
Keyboard
Sound Technician
Don't see your instrument - let us know! We may be able to accomodate you!
---
If you love to sing, play, and lead your youth group in worship, you can't afford to miss one of the greatest camp experiences with artists that will encourage and inspire you to maximize your gifts for the gospel of Christ.
---
COMING SUMMER OF 2020:
Amp It Up! Summer Touring Band