Audition Day
Scholarship Audition Days 2020-2021
January 30, 2021
February 6, 2021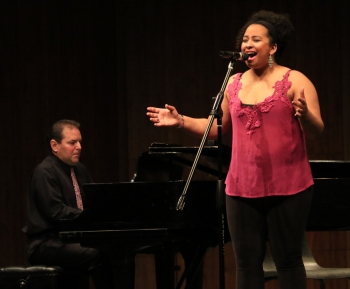 The Performing Arts Division invitation extends to any current High School senior or community college student in their final semester who is interested in majoring or minoring in music, theatre or musical theatre, or who wishes to participate in the division activities.
Those auditioning will have a chance to see and experience the fine visual and acoustic qualities of Southwestern College's Richardson Performing Arts Center. They will meet and work with dynamic performing arts faculty members, who have presented at numerous national conferences and provided expertise to the region's arts educators. Our faculty is dedicated to nurturing intellectual development, aesthetic sensibility, and creativity through stimulating classroom and performance experiences while preparing students as professionals and advocates who cultivate the arts.
Sign up today!
Scholarship Audition Days Application
"Southwestern College is an excellent venue for students to continue development; we are dedicated to empowering the artists and performers of tomorrow—
We support students as they develop and hone their craft. We offer resources and connection as students build a network. We care deeply that students grow and give voice to their creative vision."
- Timothy Shook, Ph.D., NCTM, Chair, Division of Performing Arts
---
Audition Schedule
Auditions for Music majors and Theatre Majors/Participants will begin at 1:00pm, students will sign-in and be assigned an audition time.
Auditions for BFA Musical Theatre majors and non-music major participants will begin at 2:45pm, students will sign-in and be assigned an audition time. There will be a dance audition for BFA majors after the BFA auditions are complete.
---
Auditions for Music & Theatre Programs are required for:
Admission to Music Degrees & Theatre Degrees (majors and minors)
Music & Theatre Activity Scholarships
Please check these pages for specific area audition requirements:
---
General Audition Information:
Accompanists are provided by the Music Department and are usually Faculty members, but you are welcome to bring your own. If you choose to use our accompanists please send your music one week prior to the scheduled audition date to Jeremy.Kirk@sckans.edu. You will not get a chance to rehearse with the accompanist prior to your audition.
For voice bring the original books or music in a three-ring binder in the key you are performing.
For those auditioning for a major have one copy of a repertoire list which includes all solo literature studied by the student to be presented to the evaluators at the time of the audition. This should be music the student has studied with a private teacher.
For those auditioning for a major have one copy of a performance resume including a list of music activities, awards, honors, roles in musicals, solo performances, etc.
Auditions will take place in Richardson Performing Arts Center in front of the Faculty.
BFA in musical theatre majors should expect a dance call to occur after the auditions are complete that afternoon. Please bring proper dance attire as you will have a chance to change.
---
Contact Us
Questions? Please contact the Performing Arts Division Office at (620) 229-6272 or e-mail performingarts@sckans.edu for these arrangements.