Campus Health Updates
COVID-19 Updates

Campus Testing Results
| | | | | |
| --- | --- | --- | --- | --- |
| Tests Performed | Positive Results | Active Cases | Recovered | Hospitalizations |
| 4,171 | 57 | 1 | 56 | 0 |

Note: Periodically, false-positive tests occur and can take several days to identify and confirm as such. When false-positive tests are confirmed, in conjunction with the City Cowley Health Department, they are removed from the counts above. Campus testing began on July 20.
---
At the last report, 5,746 tests have been performed in Cowley County. 469 cases of COVID-19 have been confirmed and 42 cases are active in Cowley.
Offices on campus remain open. Visitors are asked to schedule an appointment before coming to campus if possible. Find the campus directory here.
Masks are expected to be worn on campus and in Winfield.

Updated 10/20/2020
---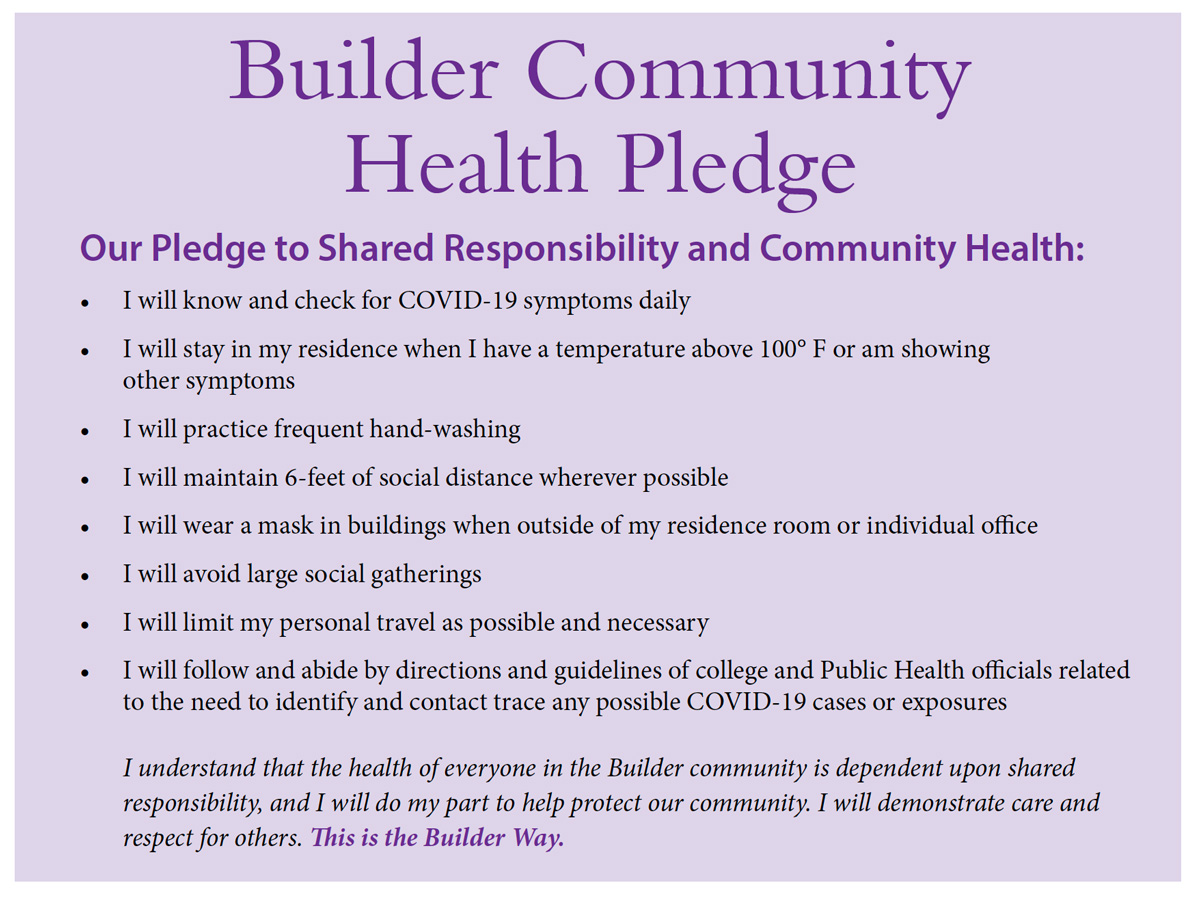 ---
---
Message for Students from President Andrews
Uploaded 7/2/2020
---
Builder Care Kit
---

Announcements
Southwestern Check-in Testing Identifies First COVID-19 Case
Press Release and Email: 07/25/2020
As part of Southwestern College's Fall 2020 Semester Plan, all students, staff, and faculty are being tested for COVID-19 as they arrive to campus. Test results received on Saturday identified the first positive case within the campus community.
Campus testing, administered by William Newton Hospital nurses, began on Monday, July 20. As of Saturday, July 25, a total of 394 tests had been performed. Results for 198 tests had returned; 197 tests returned with a negative result for COVID-19, while one test has returned positive for the virus. The results for 196 tests remain outstanding.
"The individual who tested positive is in isolation, and is being cared for and supported," said Dan Falk, dean of students. "We are working in close coordination with public health and local care providers while also seeing to the needs of this member of our Builder family. We'll do everything we can to help care for them as they recover and will work closely with our public health officials to fully address the risk of virus spread."
For residential students, the college has designated housing where students will complete a period of isolation after testing positive for the virus. A college care team is also in place to deliver meals, help with transportation to health care, and to check in on the student's emotional well-being while in isolation.
"When we decided to test our whole campus community we knew it was probable that we would identify cases and we made preparations based on that assumption – but we also knew that identifying positive cases as early as possible, isolating those individuals and caring for them, while working with public health officials to address all the different components of the situation, would best position us to keep our campus community safe from the spread of the virus," said Brad Andrews, college president.
In addition to testing at check-in, the college has implemented numerous safety procedures as part of the fall plan: including a required pre-semester quarantine of all students, staff, and faculty; the wearing of masks on campus; and restrictions on both social gatherings and travel.
The college also chose to bring residential students to campus in phases. Check-in times have been assigned to each student, reducing social interaction during their move-in to the residence halls. As part of that check-in, students are tested and asked to isolate until their test has been processed.
"One important component of our plan was to bring students back to campus early, allowing time to test for the virus before classes and modified activities begin – in doing so we are working to eliminate as many pathways for the virus as possible," said Andrews.
EMAIL SENT TO CAMPUS ON JULY 25, 2020 (from scpr@sckans.edu)
A member of the Southwestern College campus community has tested positive for COVID-19. The individual, a student, is in isolation and is receiving support as they recover.

The case was identified Saturday, July 25 as a result of the college's campus-wide testing, performed during the check-in process. The positive test occurs as the college community begins a required pre-semester quarantine. This period of quarantine will allow the individual time to recover and pass through the contagious period before being released by public health officials to return to the campus community, likely prior to the beginning of the academic year.

The City-Cowley County Health Department is guiding the response and working to complete thorough contact tracing, identifying and informing individuals who are at risk because of contact with the individual, with full support and participation of the college. The health department is also advising the college on the cleaning and disinfecting of facilities and spaces affected by this case.

Please be aware, there have been 128 total cases in Cowley County, 41 remain active. It is important to remain diligent in taking appropriate precautions to protect your personal health –avoid large social gatherings, monitor your personal health, wash/sanitize your hands often, wear a face covering when in public spaces on campus and in the community.

Please see the attached news release. Continue to monitor sckans.edu/health for additional information and updates
---
A Message Regarding the Fall 2020 Semester
Email sent to students: 06/19/2020
With so much unknown in the world today, please allow me to share some certainties with you.

First, Southwestern College remains committed to students and to your college experience. What is special about this College is our people – our students; our faculty, staff, and coaches; and our loyal alumni – all completely committed to each other. We are the Builder family, and we belong together, we are stronger together.

Second, we know for certain that your college experience, your education at Southwestern will be amazing and life-changing. No matter what circumstances arise in any particular semester, we will get through it together, and your years at Southwestern will be among the best of your life.

Third, we are thrilled to start the academic year this August.

While our campus is quiet right now, teams of people are working tirelessly to welcome all of our new and returning students to our campus, our residence halls, our classrooms, and our athletic facilities. I am grateful to our team, as well as our local public health experts and government and civic leaders, who have been working through complex and challenging times to prepare for the upcoming semester with diligence and care.

We expect that COVID-19 will be with us for the foreseeable future, and we are planning accordingly. We will always have an emphasis on in-person, personal interaction, instruction, and community. We will be responsible and vigilant about adopting all appropriate measures to address individual and public health imperatives.

As health and safety are always paramount, we continue to work with local public health officials and follow state Department of Health and Environment guidelines. We will employ public health measures including face masks, physical-distancing requirements, and daily health self-assessments; we will modify our policies to limit travel and provide appropriate education; we will implement enhanced cleaning and modified dining delivery options; we will reconfigure our physical spaces and our schedule as appropriate. We will selectively utilize high-quality hybrid approaches to course delivery, particularly to accommodate those who may need to self-isolate or whose health conditions require time away from the physical classroom. Regardless of the modifications to our habits and practices, we are completely committed to providing you with the amazing Southwestern College experience that we all cherish, and that makes such a difference in all of our lives.

REVISED ACADEMIC CALENDAR
After reviewing our academic calendar, and considering scenarios to provide the highest probability of a healthy and full semester, we will begin our academic semester one week early on Monday, August 10, 2020, and we will complete our academic semester before Thanksgiving, with the last day of finals being Tuesday, November 24, 2020.

Additionally, the traditional Fall Break has been removed from the calendar this year, and we will hold classes on Labor Day.

These revisions to the calendar allow us to reduce the risks of mid-semester travel and maximize the likelihood that we all remain healthy and meeting in-person throughout the fall semester. We also believe this approach is the best option for the safety and well-being of our students and their families, and for our faculty and staff.

The full updated academic calendar has been posted to the Registrar's Office Academic Calendar. Please note that we will be in contact with all students to let you know your arrival date and time, inform you of the process to request changes to that date, and offer you opportunities to drop off your belongings in your residence hall room early, in the week leading up to move-in.

Southwestern College is a caring, supportive community - we are the Builder Family. I know that we will all move forward doing our best to offer each other support, understanding, and grace. I know that we will all demonstrate the Builder spirit that connects us – we care about each other, and we care for each other. This is what makes us a truly unique and special community. This is what I look forward to most, as we gather together in seven short weeks.

With my very best wishes,
Brad Andrews
President
---
Fall 2020 Semester Procedures, Practices, Policies
Southwestern College implements and will carry out the following practices, policies, and actions. All employees and offices, all students and groups, of the college are expected to follow these instructions and do their part in complying with these expectations and practices.
Remote learning, remote work
Any individual who is instructed to isolate themselves, or who is showing any signs of illness must stay home or return home.

Employees will work with their supervisor to determine any short-term remote work responsibilities or to arrange for the usage of sick and personal days.

Students will attend scheduled classes remotely during this period and will be prohibited from social, athletic, or other activity attendance until they are cleared to return to the campus community.

Students who are immunocompromised should contact the college to discuss accommodations.
COVID-19 Symptom Education
Education and information will be shared online.

Postings will be hung on campus.

Handouts to each student will be placed in residence halls.
Personal Hygiene
Hand washing instructions will be posted.

Public health guidance will be posted across campus.
Social Distancing
Classroom seats and desks will be arranged for spacing purposes.

Dining hall seating will be spaced and capacity limits established.

In high-traffic buildings, exterior doors will be designated as either entrances or exits.

Campus-wide expectation to maintain 6-feet of distance from others wherever possible.
Monitoring Health / Screenings
Daily Health Screenings by each faculty, staff, and student.

Thermometers and instructions for use will be distributed to each student.

Stay home/go home when sick expectations of everyone
Masks
All students, faculty, staff will receive cloth masks.

Disposable masks will be available at offices and events.

Masks will be worn in indoor spaces and appropriate local and state health guidelines.
PPE / Protection
Personal Protective Equipment (PPE) is available for all staff.

Plexiglass shields at all point-of-service areas (classrooms, offices, etc.).
Absentee policies / Sick leave
Increased availability of sick-days for employees.

More lenient absentee policies for students will be employed.

All hourly employees (professional or student) will have opportunities to make-up hours missed due to COVID-19 symptoms or illness.
Travel
All non-essential college travel is prohibited.

Essential college travel (recruitment, fund-raising, student competitions) with modifications.

All non-essential personal travel out of state by students, faculty, and staff is strongly discouraged.

All students, faculty, staff are expected to report out-of-state travel.

All students, faculty, staff who travel to high-risk states are expected to quarantine upon return as required by the State of Kansas.
Events / Visitors
All large public events are canceled.

Non-college guests and visitors are welcome on campus, however will not be allowed inside any student housing facility after move-in day.

All college events will be re-considered, and only held according to modified guidelines, always in full accordance with public health guidelines.

Alumni Homecoming events and Hall of Fame ceremonies will be postponed.

Performing Arts events will be live-streamed, and in-person attendance will comply with all public health guidelines.

Athletic event attendance will comply with all public health guidelines.
Return-to-work Policy
Faculty, staff, and coaches are expected to return to work in accordance with our educational mission as a residential college, and in compliance with the safety guidelines and expectations in this document and subsequent updates.

All employees with needs for special or temporary accommodations/modifications in their employment arrangements will have access to two pathways for these requests: The established Disability Accommodation Procedure

A new Temporary Alternate Workplace Modification process
Facility Cleaning and Disinfecting
Sodexo will perform enhanced cleaning and disinfecting of all spaces on campus

Additional cleaning/disinfecting supplies will be located in every classroom, office, residence hall.
Dining
Reduced and spaced seating capacity in the Dining Hall.

Dining Hall capacity limits established.

Increased grab-and-go food options will be available.

Faculty, staff, and guests will be welcome at Java Jinx and Stir & Bustle for dining this year, but will not have access to the Dining Hall.
Performing Arts
Modified program and physical arrangements for rehearsals and classes, allowing for appropriate distancing.

Performances modified for both audience and artists, outside when possible, and always allowing for distancing.

All Performing Arts events will be live-streamed, and in-person attendance will comply with all public health guidelines.

Performing Arts events will comply with all public health guidelines.
Athletics
All procedures and policies will be modified in accordance with NAIA and KCAC guidelines.

National Athletic training guidelines will also inform our process.

PPE will be provided for Athletic Training staff, as well as all athletic staff who need/desire PPE.

Athletic event attendance will comply with all public health guidelines.

Modified travel protocol – temperature checks on and off buses, and all other KCAC travel guidelines followed.

Regular antigen testing of in-season athletes will be conducted (as supplies available) – immediate testing for symptomatic individuals and coordination with public health officials.
Testing
Population-level COVID-19 testing will be conducted upon entry for the semester, as available.

Regular testing of in-season athletes will be conducted as available.

Immediate testing and isolation of symptomatic individuals (fever plus one symptom).

In ALL CASES we will work with the County Health Department upon the first sign of symptoms and/or positive test.
COVID-19 Symptoms / Exposure
All guidelines and procedures are subject to modification and change in partnership with/as guided by county public health officials.

Symptomatic individuals will stay isolated, contact their health care provider and college officials, and will be tested for COVID-19 if they present two or more symptoms.

The college will work with the County Health Department in all COVID-19 cases and exposures.

Individuals with a temperature above 100° F as the only symptom will self-isolate until they are fever-free for a period of 24 hours without fever-reducing medication.

Those individuals with a fever and other symptoms, but who test negative for COVID-19, may return to activities after 72 hours with no fever present – unless alternative guidance is given by a physician.

Individuals with known contact with someone who has tested positive for COVID-19 should stay home for 14 days after exposure and self-monitor for symptoms.
COVID-19 Positive Cases
All residential students who test positive for COVID-19 will be isolated in a separate on-campus housing unit.

All faculty, staff, and students residing off-campus who test positive will isolate in their residence.

All active COVID-19 patients will follow directions and instructions of their health care provider and local health officials.

Those who test positive for COVID-19 can be with others once released to do so by county health officials.

In the event of COVID-19 positive cases, the college will coordinate with county health officials for purposes of contact tracing and isolation; treatment, cleaning, and disinfecting of facility spaces; and determinations regarding short-term cancellations of events; and short-term remote instruction and operations.