Campus Health Updates
COVID-19 Updates

Spring 2021 Campus Testing Results
| | | | | |
| --- | --- | --- | --- | --- |
| Tests Performed | Positive Results | Active Cases | Recovered | Hospitalizations |
| 5,979 | 65 | 0 | 65 | 2 |

Note: Periodically, false-positive tests occur and can take several days to identify and confirm as such. When false-positive tests are confirmed, in conjunction with the City Cowley Health Department, they are removed from the counts above. Spring 2021 campus testing began on January 2, 2021.
---
---

Fall 2020 Campus Testing Totals
| | | | |
| --- | --- | --- | --- |
| Tests Performed | Positive Results | Recovered | Hospitalizations |
| 6,132 | 117 | 117 | 0 |

Note: Total numbers are for the testing period July 20, 2020 through December 31, 2020.
---
You've Got This! Video
Take care of yourself and each other
---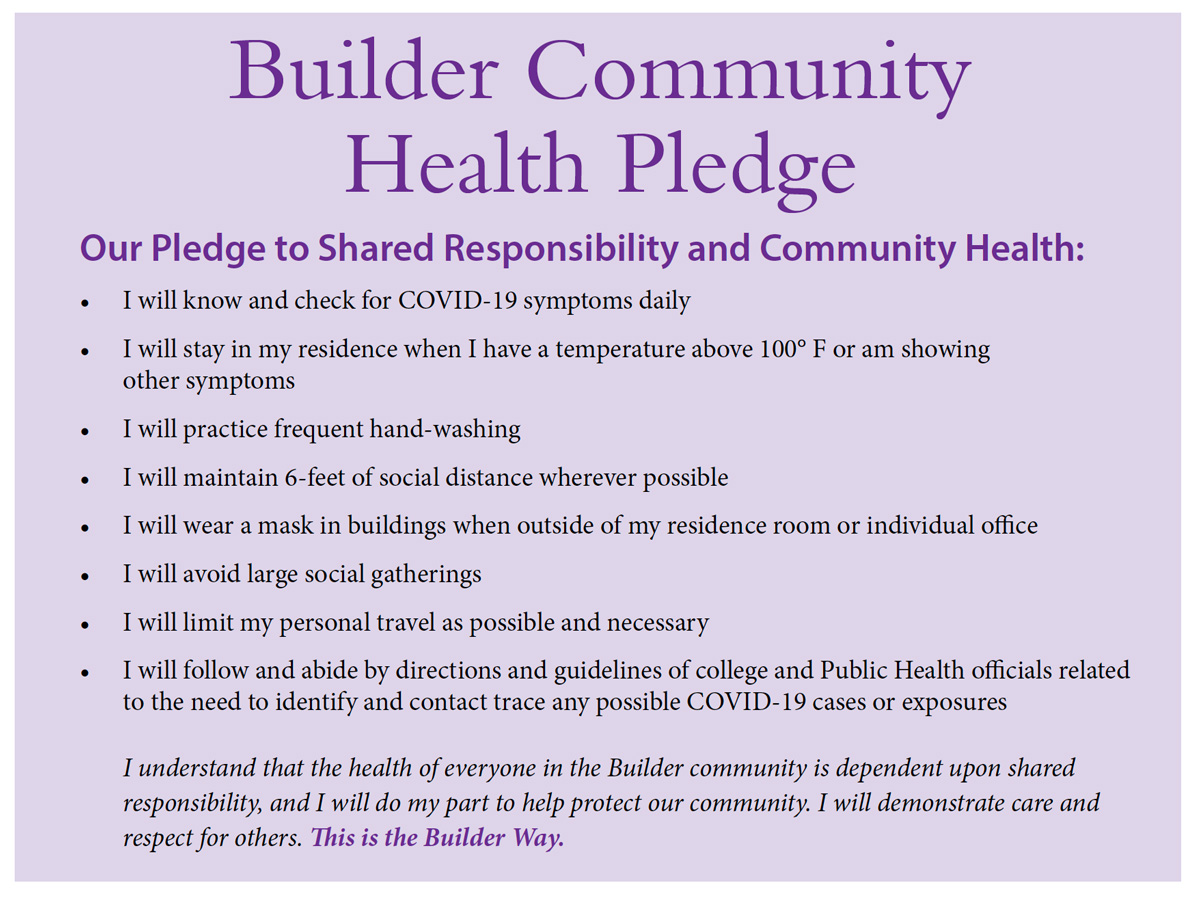 ---
---
Welcome Back Spring 2021 from President Andrews
Uploaded 1/12/2021
---
Builder Care Kit
---

Announcements
Preparing for the Spring Semester
01/07/2021
Looking forward to the return of students – precautions remain in place
As students, faculty, and staff return to campus for the spring semester, they will be tested for COVID-19. Winter student-athletes began returning to campus shortly after Christmas and were tested before returning to play. The remainder of new and returning students will be tested in the lower level of the Student Center as they check-in. Scheduled check-in times were assigned through the office of student affairs to each enrolled student. If students are unsure of their check-in/testing time they should contact the Dean of Students, Dan Falk.
As was the practice during the fall semester and is outlined in the Spring 2021 Plan mask-wearing, social distancing, and stringent personal hygiene practices are still expected. Additionally, a mask mandate remains in place in the City of Winfield, meaning when students, faculty, and staff are off-campus and in the community they should wear face coverings in any public space where social distancing of six feet at all times is not possible.

Before classes begin on January 19, our campus community will again complete a Pre-Semester Quarantine. By being tested and completing a period of quarantine together, potential pathways for the virus can be reduced and the Builder Family is better able to protect each other and mitigate the risk of community spread of COVID-19.

As the semester progresses, a weekly testing regimen focused primarily on the student population will be in place as it was in the fall. In the fall semester over 6,000 antigen tests were completed on campus. This spring, if a member of our campus community feels unwell and is experiencing symptoms of COVID-19 they should stay in their residence; ill students should contact Dan Falk, faculty and staff should notify Lonnie Boyd.
---
Spring 2021 Semester Procedures, Practices, Policies
Southwestern College implements and will carry out the following practices, policies, and actions. All employees and offices, all students and groups, of the college are expected to follow these instructions and do their part in complying with these expectations and practices.
Remote learning, remote work
Any individual who is instructed to isolate themselves, or who is showing any signs of illness must stay home or return home.

Employees will work with their supervisor to determine any short-term remote work responsibilities or to arrange for the usage of sick and personal days.

Students will attend scheduled classes remotely during this period and will be prohibited from social, athletic, or other activity attendance until they are cleared to return to the campus community.

Students who are immunocompromised should contact the college to discuss accommodations.
COVID-19 Symptom Education
Education and information will be shared online.

Postings will be hung on campus.

Handouts to each student will be placed in residence halls.
Personal Hygiene
Hand washing instructions will be posted.

Public health guidance will be posted across campus.
Social Distancing
Classroom seats and desks will be arranged for spacing purposes.

Dining hall seating will be spaced and capacity limits established.

In high-traffic buildings, exterior doors will be designated as either entrances or exits.

Campus-wide expectation to maintain 6-feet of distance from others wherever possible.
Monitoring Health / Screenings
Daily Health Screenings by each faculty, staff, and student.

Thermometers and instructions for use will be distributed to each student.

Stay home/go home when sick expectations of everyone
Masks
All students, faculty, staff will receive cloth masks.

Disposable masks will be available at offices and events.

Masks will be worn in indoor spaces and appropriate local and state health guidelines.
PPE / Protection
Personal Protective Equipment (PPE) is available for all staff.

Plexiglass shields at all point-of-service areas (classrooms, offices, etc.).
Absentee policies / Sick leave
Increased availability of sick-days for employees.

More lenient absentee policies for students will be employed.

All hourly employees (professional or student) will have opportunities to make-up hours missed due to COVID-19 symptoms or illness.
Travel
All non-essential college travel is prohibited.

Essential college travel (recruitment, fund-raising, student competitions) with modifications.

All non-essential personal travel out of state by students, faculty, and staff is strongly discouraged.

All students, faculty, staff are expected to report out-of-state travel.

All students, faculty, staff who travel to high-risk states are expected to quarantine upon return as required by the State of Kansas.
Events / Visitors
All large public events are canceled.

Non-college guests and visitors are welcome on campus, however will not be allowed inside any student housing facility after move-in day.

All college events will be re-considered, and only held according to modified guidelines, always in full accordance with public health guidelines.

Alumni Homecoming events and Hall of Fame ceremonies will be postponed.

Performing Arts events will be live-streamed, and in-person attendance will comply with all public health guidelines.

Athletic event attendance will comply with all public health guidelines.
Return-to-work Policy
Faculty, staff, and coaches are expected to return to work in accordance with our educational mission as a residential college, and in compliance with the safety guidelines and expectations in this document and subsequent updates.

All employees with needs for special or temporary accommodations/modifications in their employment arrangements will have access to two pathways for these requests: The established Disability Accommodation Procedure

A new Temporary Alternate Workplace Modification process
Facility Cleaning and Disinfecting
Sodexo will perform enhanced cleaning and disinfecting of all spaces on campus

Additional cleaning/disinfecting supplies will be located in every classroom, office, residence hall.
Dining
Reduced and spaced seating capacity in the Dining Hall.

Dining Hall capacity limits established.

Increased grab-and-go food options will be available.

Faculty, staff, and guests will be welcome at Java Jinx and Stir & Bustle for dining this year, but will not have access to the Dining Hall.
Performing Arts
Modified program and physical arrangements for rehearsals and classes, allowing for appropriate distancing.

Performances modified for both audience and artists, outside when possible, and always allowing for distancing.

All Performing Arts events will be live-streamed, and in-person attendance will comply with all public health guidelines.

Performing Arts events will comply with all public health guidelines.
Athletics
All procedures and policies will be modified in accordance with NAIA and KCAC guidelines.

National Athletic training guidelines will also inform our process.

PPE will be provided for Athletic Training staff, as well as all athletic staff who need/desire PPE.

Athletic event attendance will comply with all public health guidelines.

Modified travel protocol – temperature checks on and off buses, and all other KCAC travel guidelines followed.

Regular antigen testing of in-season athletes will be conducted (as supplies available) – immediate testing for symptomatic individuals and coordination with public health officials.
Testing
Population-level COVID-19 testing will be conducted upon entry for the semester, as available.

Regular testing of in-season athletes will be conducted as available.

Immediate testing and isolation of symptomatic individuals (fever plus one symptom).

In ALL CASES we will work with the County Health Department upon the first sign of symptoms and/or positive test.
COVID-19 Symptoms / Exposure
All guidelines and procedures are subject to modification and change in partnership with/as guided by county public health officials.

Symptomatic individuals will stay isolated, contact their health care provider and college officials, and will be tested for COVID-19 if they present two or more symptoms.

The college will work with the County Health Department in all COVID-19 cases and exposures.

Individuals with a temperature above 100° F as the only symptom will self-isolate until they are fever-free for a period of 24 hours without fever-reducing medication.

Those individuals with a fever and other symptoms, but who test negative for COVID-19, may return to activities after 72 hours with no fever present – unless alternative guidance is given by a physician.

Individuals with known contact with someone who has tested positive for COVID-19 should stay home for 14 days after exposure and self-monitor for symptoms.
COVID-19 Positive Cases
All residential students who test positive for COVID-19 will be isolated in a separate on-campus housing unit.

All faculty, staff, and students residing off-campus who test positive will isolate in their residence.

All active COVID-19 patients will follow directions and instructions of their health care provider and local health officials.

Those who test positive for COVID-19 can be with others once released to do so by county health officials.

In the event of COVID-19 positive cases, the college will coordinate with county health officials for purposes of contact tracing and isolation; treatment, cleaning, and disinfecting of facility spaces; and determinations regarding short-term cancellations of events; and short-term remote instruction and operations.