Community Music School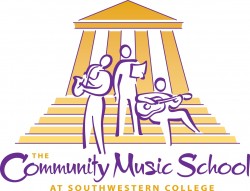 PLEASE NOTE: DURING THIS TIME OF COVID RESTRICTIONS, ALL PRIVATE LESSONS WILL BE DELIVERED IN A VIRTUAL MODE FOR WINTER/SPRING 2021. WE WILL REASSES AS THE SEMESTER PROGRESSES AND UPDATE AS INDICATED BY COWLEY COUNTY HEALTH DEPARTMENT and KDHE.

The Community Music School at Southwestern College offers 30 or 60 minute individual lessons that will prepare students to express themselves musically and acquire the skills necessary to successfully participate in ensembles, perform in public, and enjoy a lifelong love of music.

We offer private music lessons for all ages, levels, and abilities. Students meet for one-on-one weekly sessions with CMS instructors. Music lessons are available on piano, violin, viola, cello, percussion, and voice. Lessons are offered on the Southwestern College campus.

The goals and needs of each student are considered individually when placed with an instructor.

Music for all ages.

Individual and group lessons
Beginner to advanced levels
Level-based rates
Classes and lessons at your convenience
Group Beginning Piano Classes for children ages 7-12 years
Group Voice Class for the young voice in grades 3-8
Melody Builders Music and Movement Classes for babies, toddlers, and preschoolers up to age 4

---

Registration for the 2020-2021 Academic Year is Open Now!

All new and returning students are required to register.

Please click HERE to be taken to our registration page.

Become a fan of our Facebook page to stay connected!
---

Subscribe Here to receive emails and updates from The Community Music School!
---
---
CMS on Facebook